How to make real old-fashioned lemonade from scratch, that really bubbles! Fun edible (or drinkable) science project for kids.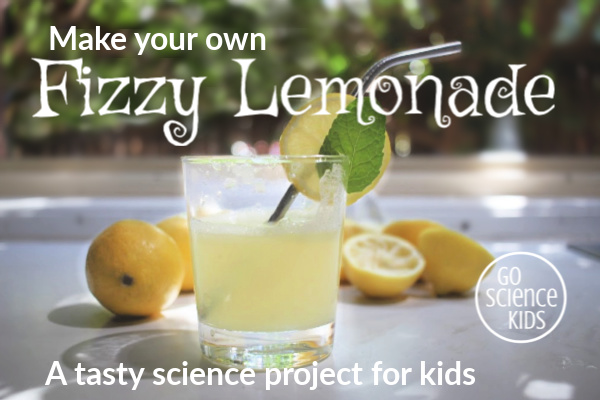 I've been wanting to make homemade lemonade with the kids for AGES! It's one of those classic "must-do" childhood activities, and if you make yours with an acid-base reaction like we did, it also doubles as an impressive & tasty science demonstration.
There are different ways you can add bubbles to (or carbonate) drinks. One way is to use something like a soda stream which forces carbon dioxide gas (Co2) from a pressurised cylinder into drinks, making them fizzy. Another way is to produce an acid-base chemical reaction, which creates the carbon dioxide from within the drink. That's what we've done with our homemade lemonade recipe here. And the best bit is that our recipe doesn't require a fancy soda stream machine – it uses common pantry items that you probably already have at home.
We've played around with acid-base chemical reactions in the kitchen before, like when we made Anzac biscuits, or our Violet Crumble honeycomb bars, and let's not forget our homemade sherbet! There's something so impressive about watching things froth up and bubble, especially when you get to taste them afterwards.
Our lemonade recipe will taste a little different to the store-bought lemonades that you might be more used to. Fair-warning that the baking soda does have a slightly soapy after-taste. But if you add enough sugar (!), and if your kids enjoy the process, then the results are certainly impressive and memorable . We made two glasses of lemonade, (reducing the quantity of baking soda in our second glass, until we found our 'sweet spot), and my kids are asking to make more today, so I think that means it was a winner.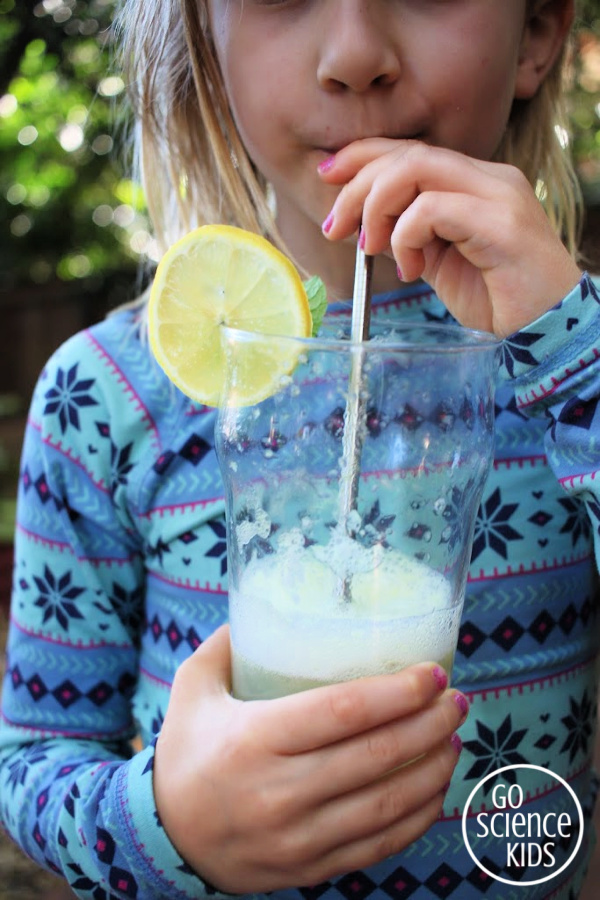 Suitable for
Tasty science is fun for any age! You could try this from preschoolers through to primary school aged kids – Bumble Bee was 7.5 years old when we did this at home.
Younger kids will be fascinated by all the bubbles in this demonstration, and it can start to develop their understanding of acid base reactions, and that 'chemicals' can occur naturally and be useful in cooking!
Older kids might like to turn this into an experiment (perhaps by studying the effect of varying the baking soda quantities) using the scientific method: form a hypothesis, create a fair test, by changing just one variable, and record results. They can share their findings in the comments below!
Please note…
Mixing together pantry ingredients is a safe and fun way to explore chemical reactions with kids. The ingredients used here are all generally taste-safe, however, please don't let kids eat baking soda in its concentrated form (ie, don't let kids eat plain baking soda by the spoonful please). Baking soda is OK to taste once it's with the other ingredients in the lemonade.
Kids knife skills vary – use your own discretion as to whether you would like your child to try using a sharp knife, or if you would like to pre-cut the lemons for them.
All kids' activities on this blog require attentive adult supervision. Parents and carers will need to judge whether a particular activity is appropriate their child's age and skill level. Click here for more information.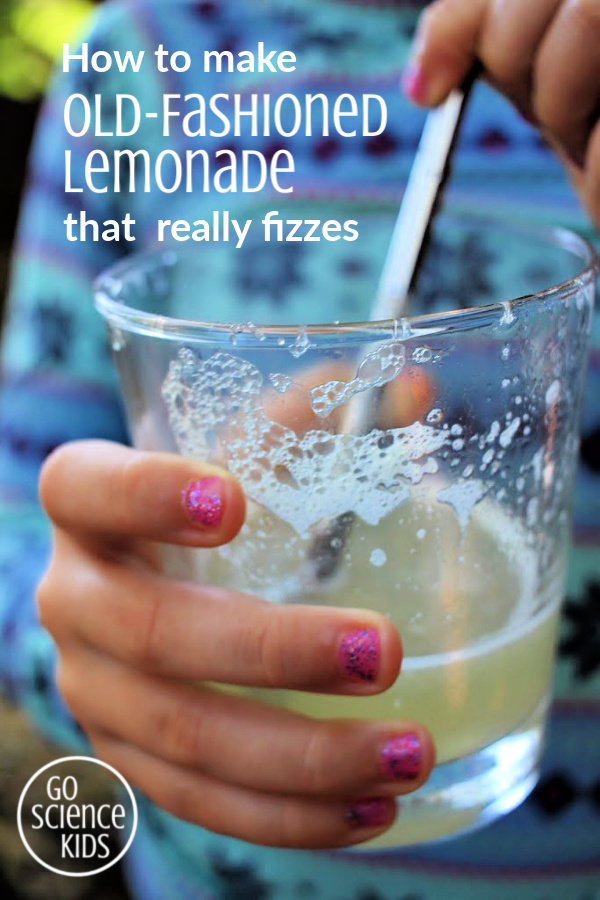 How to make Old-Fashioned Lemonade