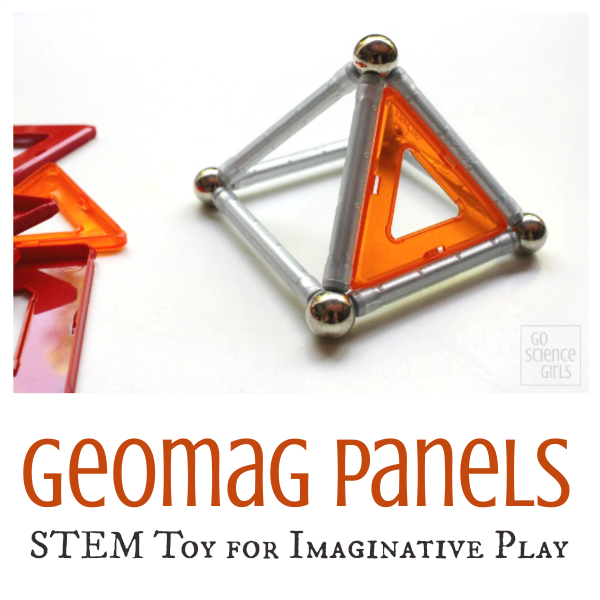 Product Reviewed: Geomag Panels 22 Piece Set
Age Range: 5-10+ year olds
Star Rating: 4 / 5 stars
The Good: Open-ended magnetic construction toy with added panels that work well for creating imaginative play props.
The Bad: Panels are tricky for little hands to insert, which can add to frustration. (Plus choking hazard for babies and toddlers.)
The Verdict: Extra panels in this set add a fun element. A bigger set (or multiple sets) allows for more play.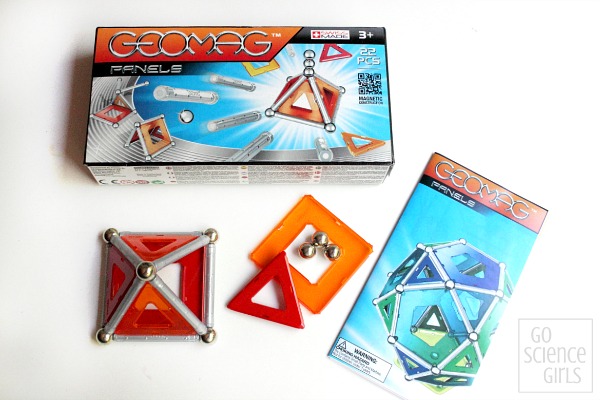 What is Geomag Panels?
Geomag is a magnetic construction toy range. I've already reviewed two classic Geomag sets – Geomag Color and Geomag Glitter. (To avoid duplication, please refer to that review for more info on what you can do with these basic Geomag pieces.)
Geomag Panels is a subset of this Geomag range, which includes added panel pieces, in addition to the usual magnetic rods and metal balls. Geomag Panels is available in box sets, each containing between 22-180 pieces.
I'm reviewing the 22 piece box set, which contains 8 magnetic rods, 8 metallic balls, 4 triangular panels and 2 square panels. It's available online from Amazon.com or Amazon.co.uk.
Key Features & Our Review
As with all the Geomag range, this set includes the usual high quality magnetic rods and metal balls, which can be combined together in SO MANY different ways to learn about magnetism, physics, engineering, maths, and more. (See our earlier review for more info).
Our set includes an additional 4 x triangular panel pieces and 2 x square panel pieces, in red and transparent orange.
Each panel piece has a cut out section in the middle, according to the shape. (ie, the triangular panels have a triangular cut out section).
Each panel pieces also has a tiny indent in the middle of each side.
The panels are very different to the 'base plates' that are included in some of the other Geomag sets. The panels are designed to be inserted 'into' the corresponding shape made with the rods and balls. For instance, you would create a triangular shape with the rods and balls first, and then insert a triangular panel into the middle section of this shape, until it clicks into position. Here's how it looks adding triangular and square panel pieces into a square pyramid.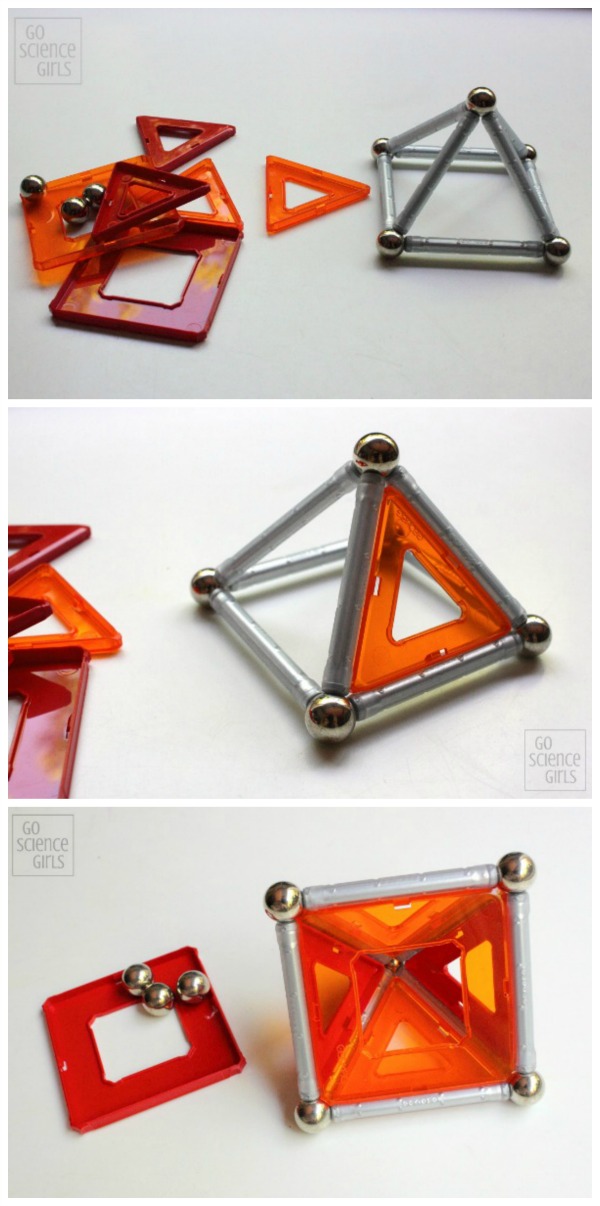 The panels can create some stability in a 3D structure, as they help keep the angles consistent. (For instance, a cube with square panels inserted, is much less likely to tilt sideways and become a parallelepiped (or 3D parallelogram / rhomboid).
(In related news, I am totally geeking out that I just used the term parallelepiped in a real sentence.)
You can totally use Geomag Panels as a way to teach geometry and the difference between 2D and 3D structures – it's perfect for that!
But if you ask my daughter Jewel, she'll tell you that the main benefit of the extra panels is that they help you to make cool houses, stables and other structures for her figurines. She's all about imaginative play at the moment, and if I can encourage her to learn about magnets, geometry, construction and engineering through this imaginative play – you bet I will!
(Note: some of the images below include Geomag pieces from our other sets).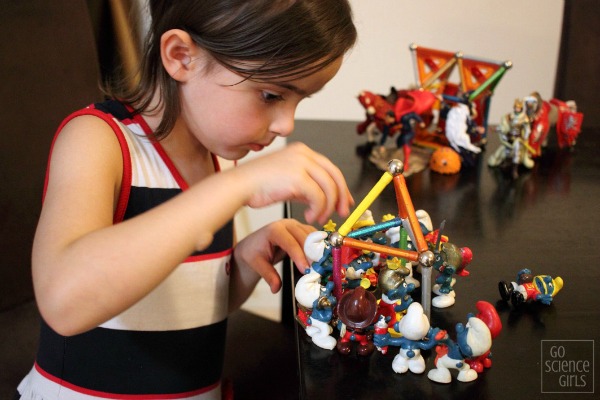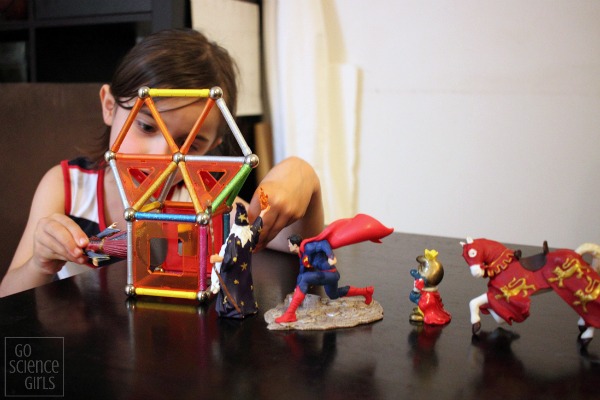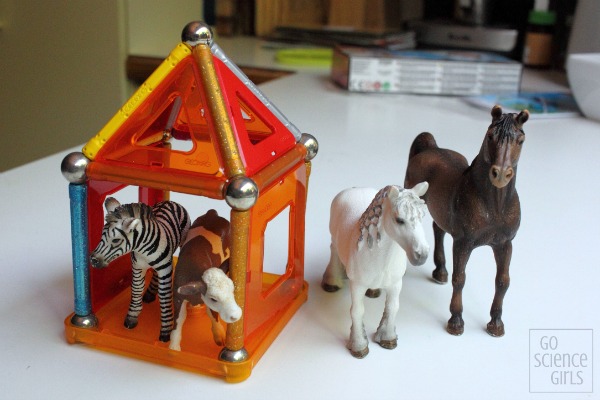 Packaging, Size & Other Details
The Geomag Panels 22 Piece Set comes in an attractive box, measuring approximately 21 x 11 x 4cm, that features examples of constructions that can be made using just the pieces in this set on the back.
Inside the box, the individual pieces were packaged in a sealed plastic bag, along with an instruction booklet that visually demonstrates a few more ideas (including more complicated designs that require combining different sets).
There's one picture of a boy building a huge Geomag construction on the back of the box, but overall the packaging is very unisex. If you're looking for a 'girlier' looking product, you can a similar set in pink and glitter.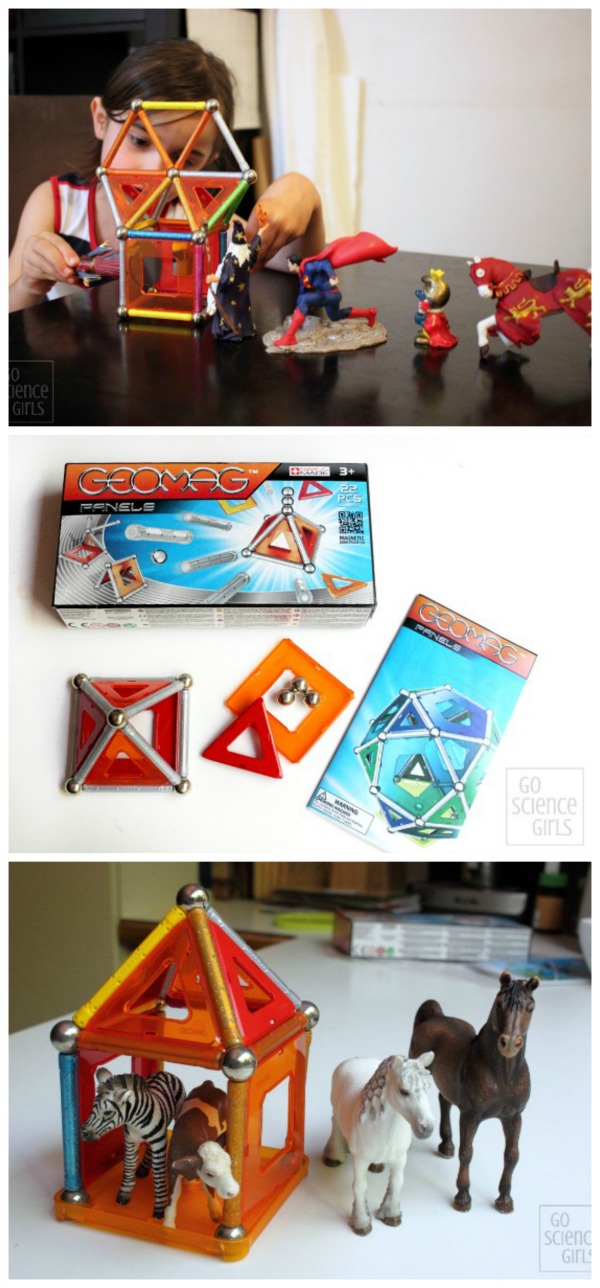 Pros & Cons
Positives
This is a great product to introduce kids to magnetism and construction.
Kids can follow the illustrations to try to recreate various structures and/or come up with their own creative designs.
The panels create stability to some 3D designs, by ensuring consistent angles.
The panels aid imaginative play when creating houses, stables, castles, etc – they make great 'walls' with inbuilt 'windows'.
This is an open-ended toy that can be played with by multiple age groups (from 3+), with the ability for designs to grow in complexity to match your child's level. There are some absolutely awesome designs that utilise the magnetic forces within. Many of the ideas are too tricky for Jewel right now, but she can try them when she is ready.
Geomag sets are a good item to put on a birthday wishlist – because if it won't matter if you receive multiples. You can easily combine several kits. The more pieces you have, the more interesting and complex constructions you can make.
Negatives
Jewel finds it hard to insert the panels into her constructions. She can do it, but it's tricky. Her 6 year old fingers need to push just hard enough that the panel clicks in, but not so hard that the structure collapses.
The little metal balls are small enough to be choking hazards, and can roll away and get lost really easily, so I'd be concerned about having a Geomag set if I had a crawling baby or toddler in the house.
A 22 piece set is limiting in what you are able to do. It's more fun when you have a larger set or multiple sets to play with.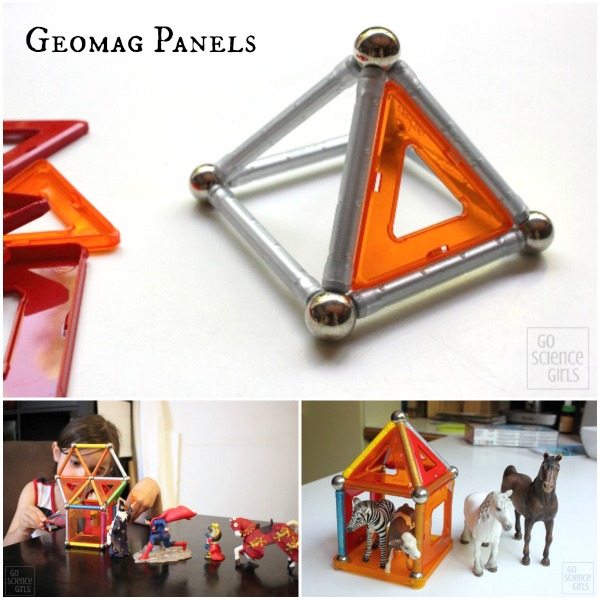 Where to Buy Geomag Panels
Geomag Panels comes in sets of 22-180 pieces. You can also buy additional panel pieces only. You can check for local sellers in your country here.
I've added some Amazon links for the US and UK for some of the more popular sets available. But there any many more options than this – have a look to find a set that suits you. (Shipping is usually possible to other countries too.)
Have you tried any Geomag products, or a similar product? What did you think? I'd love to hear your thoughts (both positive and negative) in the comments below.
Disclaimer: I received this Geomag Panel 22 piece set complimentary in exchange for an honest review. I was not paid or obligated to voice any particular preference. All opinions are my (or my kids') own. This post does contain affiliate links. An affiliate link means I may earn referral / advertising fees if you make a purchase through my link, without any extra cost to you. Thank you for your support, I really appreciate it.