Studying and comparing different vegetable and edible flower seeds – nature study activity for kids.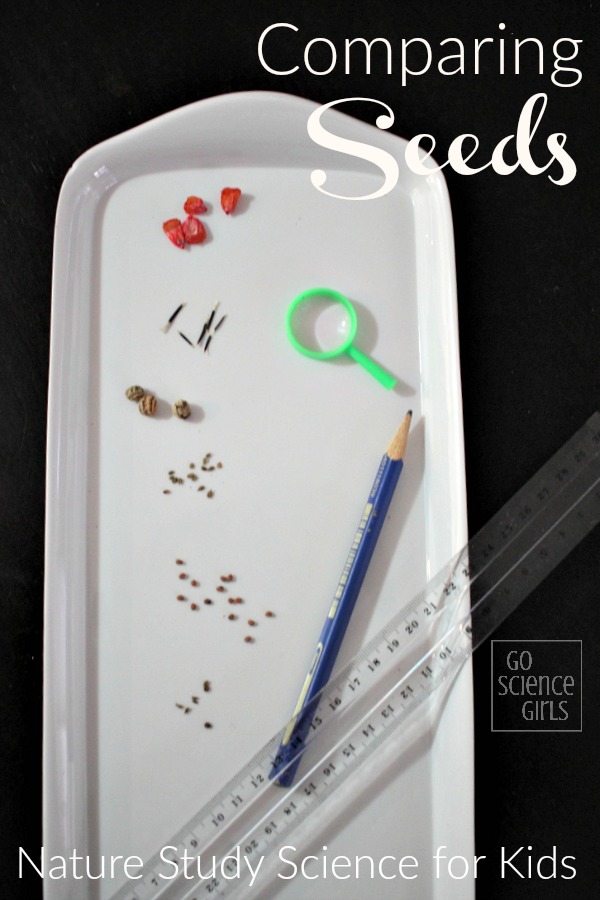 This year the kids and I decided to try our hand at growing our own food. Jewel, my eldest daughter, has declared she wants to be a farmer when she grows up (just one of her many ambitions), so I thought this would be a great way to introduce some early farming concepts. It's also a great way for kids to learn about the plant life cycle and where our food comes from.
We decided to try growing from seed, as this is the start of the plant life cycle. Ideally we'd like to harvest our own seeds later on, so we can plant them again and see the full cycle in action!
In the meantime, we bought some seed packets that we thought would be impressive to grow, tasty to eat, and able to withstand our harsh Australian summer sun. We chose mostly vegetables, but Jewel also insisted on a few flowers – so we compromised and chose two edible flower varieties!
But before we planted them, I thought this would be a good opportunity to study and compare them. My girls hadn't really come across many garden seeds before, and certainly hadn't had a good look up close!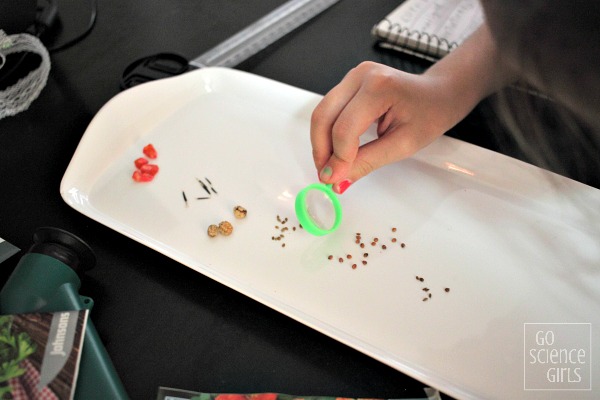 I set out seeds on two trays (one for each of my daughters), along with seed packets, magnifying glasses, paper and pencils as an invitation to explore, and then let the girls decide what exactly they'd like to do with these materials.
My 6.5 year old daughter Jewel found the 'invitation' first, and decided to compare the seeds according to visual characteristics. She referred to the seed packets to help her with spelling, and wrote down which seeds she thought were the longest, biggest, roundest, etc.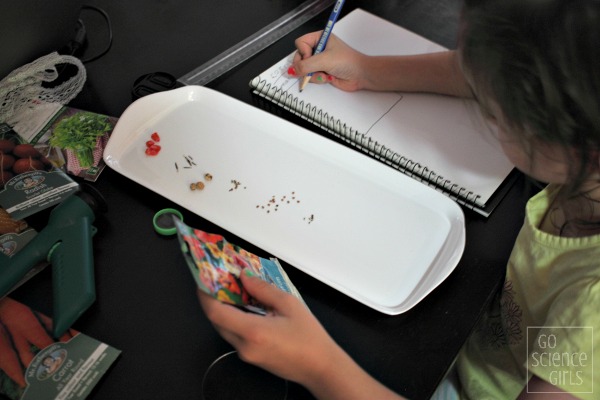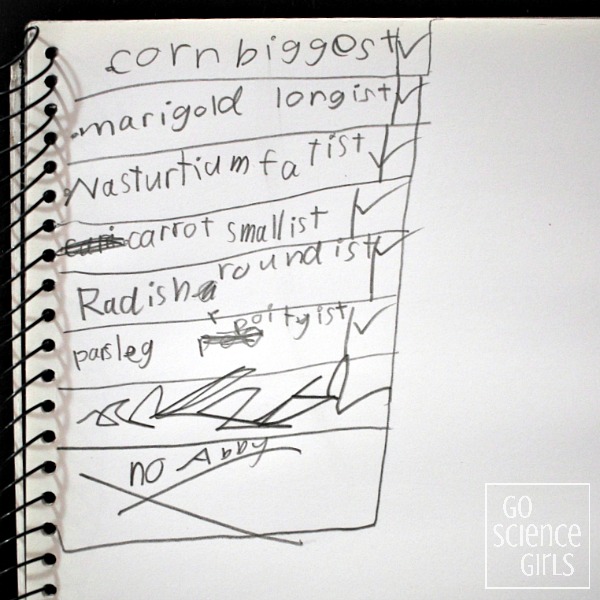 She declared that the corn seeds were the biggest, marigold the longest, nasturtium the fattest, carrot the smallest, radish the roundest, and parsley the pointiest.
So awesome to see her combine combination of science, literacy and maths in the one self-directed activity!
As an extension, I suggested she could rank all the seeds according to each characteristic (ie corn seeds are the biggest, nasturtiums the next biggest…), but she wasn't interested in that at this time. (Perhaps she'll do this next time…) For now, she was more interested in labelling each seed according to their one distinguishable characteristic.
Jewel and I discussed how different the seeds look, and how a seed's appearance doesn't necessarily indicate what the final plant will look like. A marigold seed looks nothing like a nasturtium seed, even though they are both flowers.
A little while later, my 4 year old daughter, Bumble Bee, stumbled across the invitation and took a different approach. The seeds on her tray were all jumbled up by this point, and so she enjoyed studying them and sorting them into their different piles. She wanted to label her piles, so we decided to write plant names onto coloured craft sticks, which could double as seed markers when we plant them later on.
We're very excited to be planting these seeds, and look forward to watching them grow!
For more nature activities, check out our Nature Study Projects for Kids page, including:
You might also like to follow our Go Science Kids and Nature Study Activities for Kids boards on Pinterest.
And, of course, you can always subscribe to our newsletter, to receive all our latest activities via email. We'd love to have you join us!