Did you see this tall Magna-Tile tower we built yesterday?
We built it to measure how high our catapults were shooting. We had to keep building it higher and higher, as we discovered one of our catapults had a very high trajectory!
All that tall-tower-making had me thinking…. If we built it just a little bit taller, could we use it to measure the girls' heights?
So that's what we did!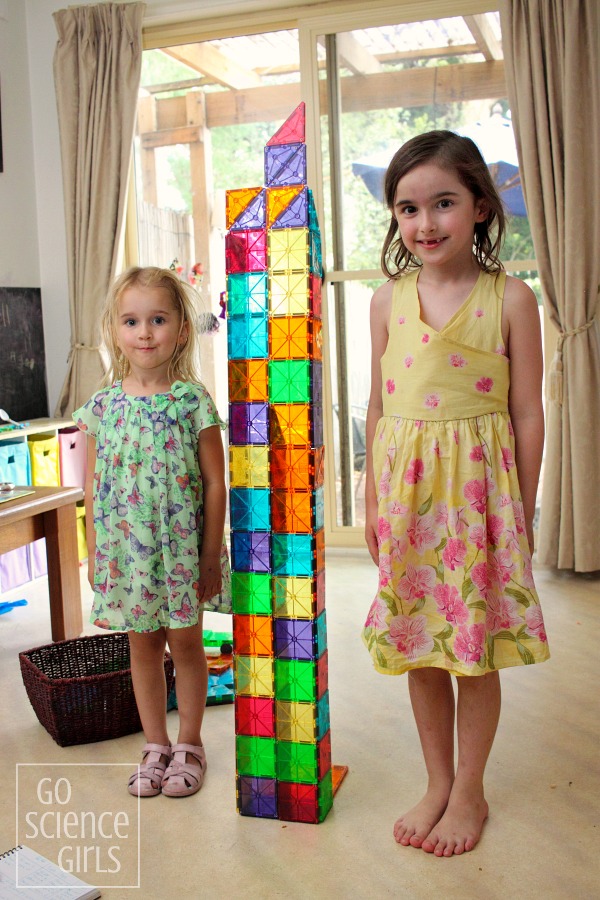 Suitable for
This is a fun activity for 3-6 year olds. Using everyday items that are a uniform size to measure objects and compare their relative size is one of the maths skills Jewel learned when she was in kindergarten and Year One.
Bumble Bee and Jewel were 4 & 6.5 years old here.
The girls have been lucky enough to receive two Magna-Tiles sets (this 100 piece one and this 48 piece one) over the past few years as Christmas gifts (thanks Grandma!), and so are quite familiar with building with them. Even so we had to get a little creative in working out how to build a tower tall enough to measure Jewel, stable enough that it wouldn't fall down, using only the limited number of square tiles that we had available.
Here's what the structure looked like from behind.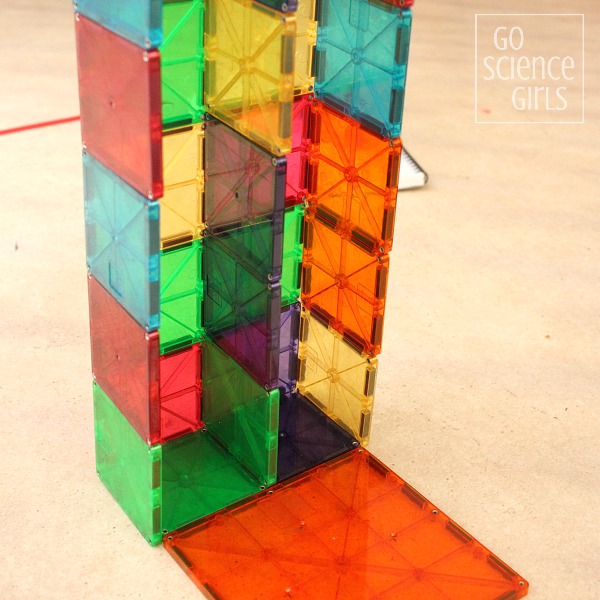 We ran out of squares at the very top, so we made our own using right-angled triangles. (Hands-on geometry!)
We found out that Bumble Bee is currently 13 Magna-Tile squares tall, and Jewel is currently 16 Magna-Tile squares tall, meaning that Jewel is 3 Magna-Tiles taller than Bumble. (Oh, don't they grow up so quickly!)
The engineering and math components make this a fun STEM activity that kids can try at school or home!
For more Magna-Tiles fun, you might like:
You might also like to follow our Go Science Kids, STEM for Girls and Playful Maths for Kids boards on Pinterest.
And, of course, you can always subscribe to our newsletter, to receive all our latest activities via email. We'd love to have you join us!
* This post contains affiliate link(s). An affiliate link means I may earn a referral fee or commission if you make a purchase through my link, without any extra cost to you. I was not obligated to link to any particular product, and all opinions are my (or my kids') own. Thank you for your support.