The kids have been asking to do some more fun acid-base reactions ever since we made our erupting volcano a few months back. Did you know that by adding a small amount of dishwashing liquid, you can turn the classic baking soda and vinegar bubbly reaction into a frothy, foamy one instead? We used this theory to combine fun science with imaginative play, changing a castle moat into a 'castle in the clouds' small world scene. Fun!
To make a 'castle in the clouds' small world scene
We used:
White Vinegar
blue food colouring
dishwashing liquid (aka dish soap / liquid dish detergent)
baking soda (aka sodium bicarbonate / bread soda / cooking soda / bicarbonate of soda)
a large bowl
a smaller bowl
castle & various figurines
blu-tack
jug and spoon
kids safety glasses (optional)
The girls built a Lego Duplo castle on a small mat, which I blu-tacked to the underside of a small green bowl. I then put this in a larger bowl, so that it looked like a castle sitting on a grassy green hill (if you use your imagination….)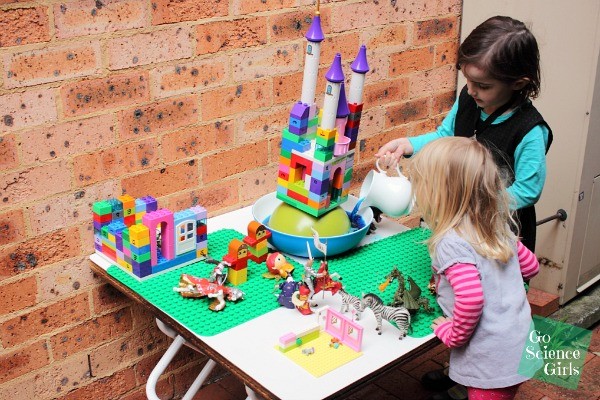 I mixed a few cups of white vinegar, some blue food colouring and a small squirt of dishwashing liquid (the magical extra ingredient) in a jug, and let the girls pour the mixture into the larger bowl to make a moat. (Normally the smaller green bowl would float at this point, but luckily our castle was heavy enough to weigh down our 'hill'.)
Now, here comes the fun part. The girls added small amounts of sodium bicarbonate (baking soda) with a teaspoon, and watched their moat froth up and turn into foamy, fluffy clouds!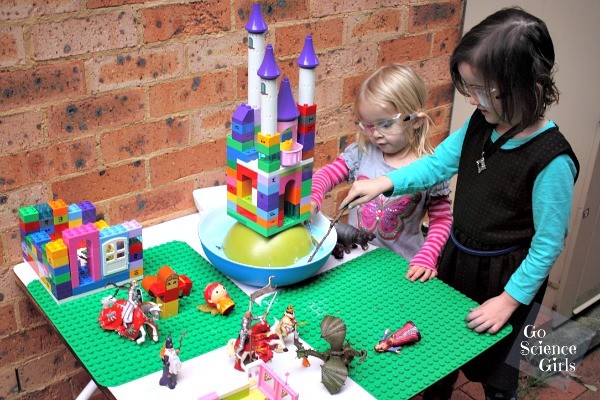 The kids then lost themselves in about an hour of imaginative play. (Something about a dragon who, upon waking up from a thousand year sleep, negotiates with a princess about the price of food in exchange for safe flight over magical clouds…. )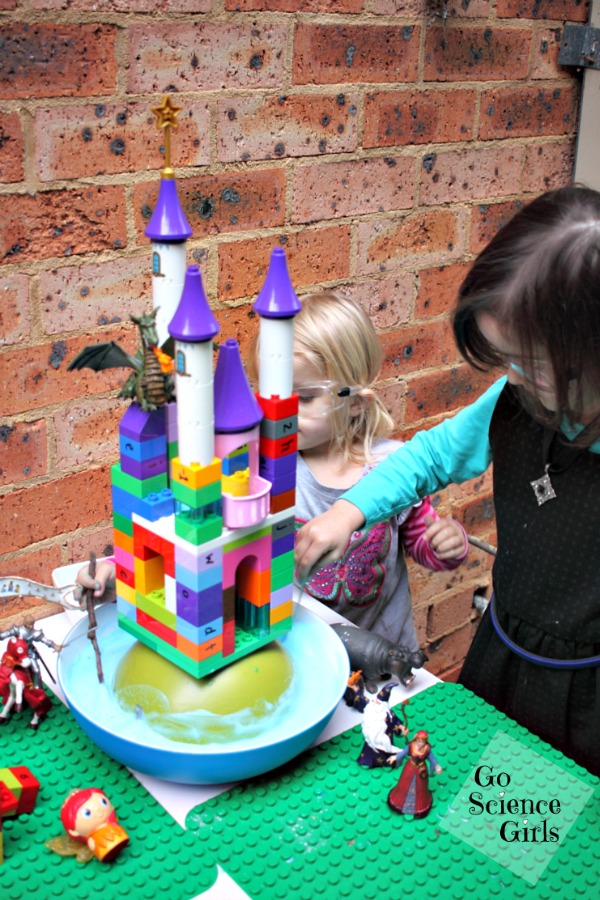 Is there a diplomatic princess living at your house, who could charm a hungry dragon into giving her safe passage across magical clouds? Yeah, I thought so….
Fun Science Fact
This is a variation of a classic acid-base chemical reaction between vinegar (a mild acid) and baking soda (a base), which creates carbon dioxide gas (among other things). Normally you see the carbon dioxide gas bubbling up out of the mixture for a few seconds, before subsiding. In this instance, the carbon dioxide gas bubbles mix with the added dishwashing liquid, making the mixture froth and foam up instead.
I should also mention that the kids safety glasses are not really 100% necessary for this experiment, but they are oh so cute! 🙂
Please note…
All kids' activities on this blog require attentive adult supervision. Parents and carers will need to judge whether a particular activity is appropriate their child's age and skill level. Click here for more information.
* This post contains affiliate link(s). An affiliate link means I may earn advertising revenue if you make a purchase through my link, without any extra cost to you. Thank you so much for your support, I really appreciate it.