Questacon, located on the southern shore of Lake Burley Griffin in Canberra, is Australia's national science and technology centre. It boasts over 200 interactive exhibits, and aims to promote an understanding and awareness of science and technology in a fun, hands-on way. Plus, it's awesome.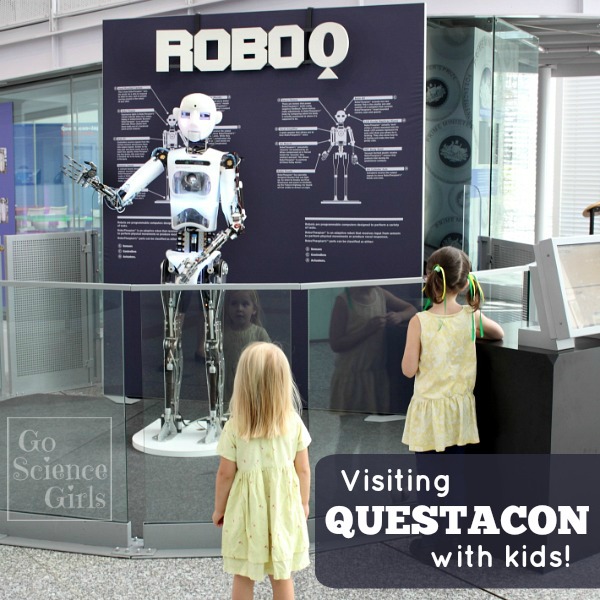 Questacon
Open: Daily from 9.00am – 5.00pm, except Christmas Day.
Cost: Adults $23, Children (4-16 years) or Concession $17.50, Children (under 4 years) FREE, Members and Reciprocal Members (>100km) FREE. Annual family membership from $130. Click here for more information.
Location: King Edward Terrace, Parkes, ACT. Click here for map. Click here for transportation and parking information.
Suitable for: 2-100 year olds! Toddlers and preschoolers will likely prefer the Mini-Q area and the puppet shows. The other galleries and shows are targeted to an older age group, however we found that almost every gallery had a number of exhibits that were suitable (and exciting) for even little kids to explore. It's a huge centre, and there really is so much to see and do.
The best bits: Definitely the interactivity – there are very few exhibits that are not hands-on. Excite@Q, Awesome Earth, Wonderworks and Mini Q are our favourite galleries.
The worst bits: Mega Bites Cafe (which really feels more like canteen). We brought our own food mostly, and were disappointed on those days that we didn't.
Our Review
I first visited Questacon as a schoolgirl, not long after it first opened in 1988, and I can still remember how amazing it was. I can remember it quite vividly, actually.
Many of the exhibits have changed since then, but the feeling Questacon creates is just the same. It's all about the science. It's all about the technology. It's fun. It makes you want to run around, and find, and see, and touch, and do everything. It's geeky, yet really, really cool!
The highlight of the centre (for my family, anyway) is the robot, Robo Q. You can select how you want him to move, or what you want him to say. He can impersonate C3PO, and he can sing a few songs as well. We may have spent a ridiculous amount of time making him sing Eric Carmen's "All By Myself" in tenor, over and over again. (In fact, if you ask Bumble what a robot says, she'll start singing this song, in the deepest voice a 2 or 3 year old girl can muster…)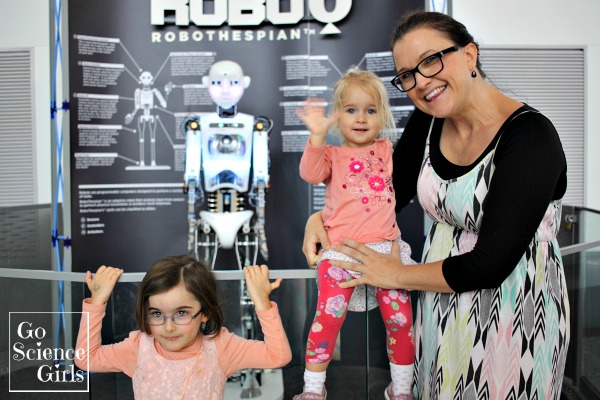 We first brought our two daughters to Questacon in January 2015, when Jewel was 4 1/2 years old and Bumble was a little over 2, using our free reciprocal entry (courtesy of our Powerhouse Museum membership). Bumble was still needing day naps at the time, so we had intended to visit just for the morning, heading back at lunchtime for Bumble to sleep. When she awoke later that afternoon, the kids begged and begged to go back to "the place where the robot lives". That holiday, we ended up going back to Questacon 5 times (a combination of pre and post lunchtime naps) over 3 consecutive days, and the kids still hadn't had enough. We returned for another visit in July, and again (this time as guests* of Questacon) just a few weeks ago (with the kids now being 5 1/2 and 3 years old). Considering we don't even live in the ACT, it's safe to say that we're fans…
Questacon is broken up into several distinct areas. When you first arrive, you step into a large foyer flooded with natural light. This is where you buy your tickets, show your membership and book in for Mini Q. It's where Robo Q lives, as well as the mesmerizing Gravatram (as above), and at the moment there's also a giant robotic spider (as below). (Cool!)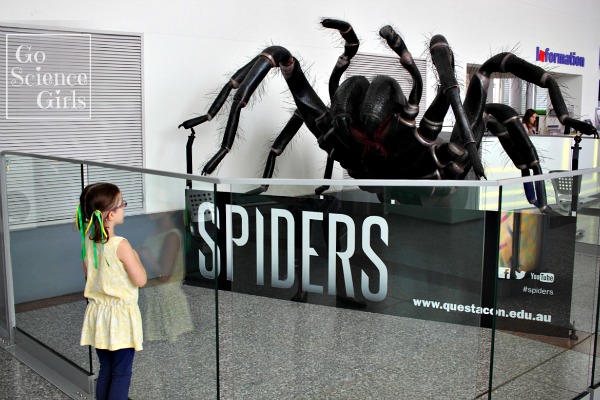 There's a huge ramp in the middle of the foyer that leads to the top of the centre, before spiralling down past eight galleries, each with a distinct theme. Some of the galleries change from time to time: at the moment there's Spiders, Q Lab, Awesome Earth, Wonderworks, Australian Inventiveness, H2O – Soak Up the Science, Excite@Q and Mini Q. Many of the galleries are quite dark. They have a mysterious feel, and it's easy to get disorientated in these rooms, so stay close to your kids. Some of these galleries are targeted to an 8+ age group, but younger kids will still find plenty to amaze them, even if they don't understand all the science behind it all just yet.
There are (far) too many awesome exhibits for me to list them all, but I thought I would share a few of our favourites.
This gallery is really, really cool. It's all about exploring colour, movement, light and sound. You can dance in front of a camera that detects your motion and displays it in psychedelic images on a large screen (reminiscent of many 1980's film clips). You can see your shadow linger on a light sensitive screen, for several seconds after you've stepped away. You can watch a Harmonogram being made, and learn about anti-counterfeiting measures on our Aussie $20 notes.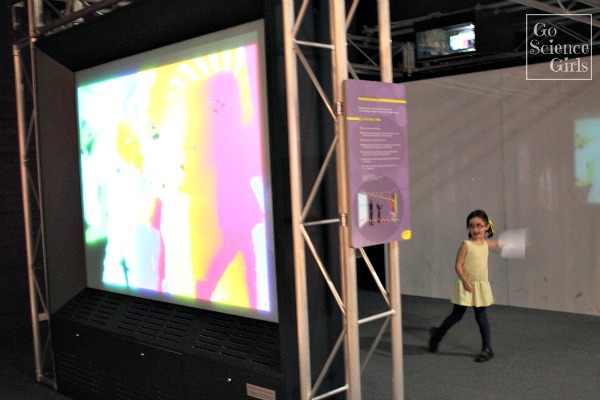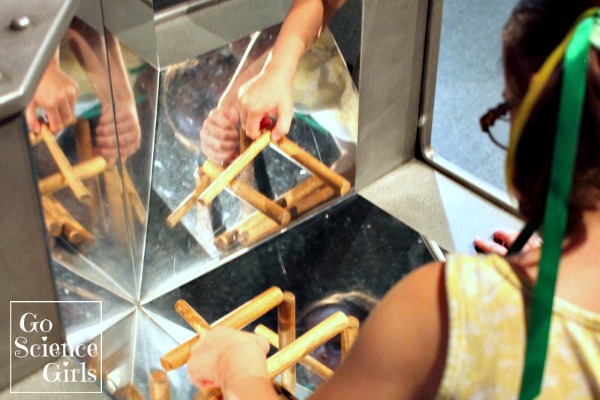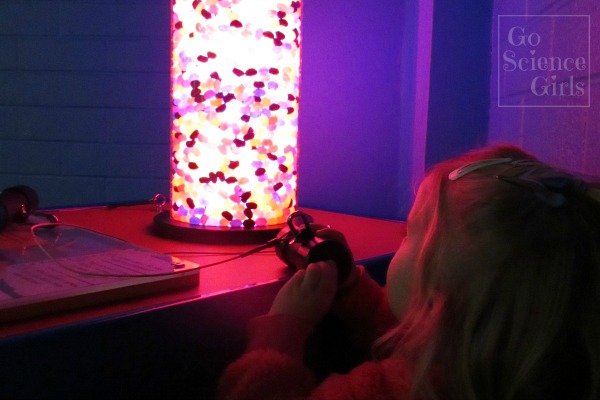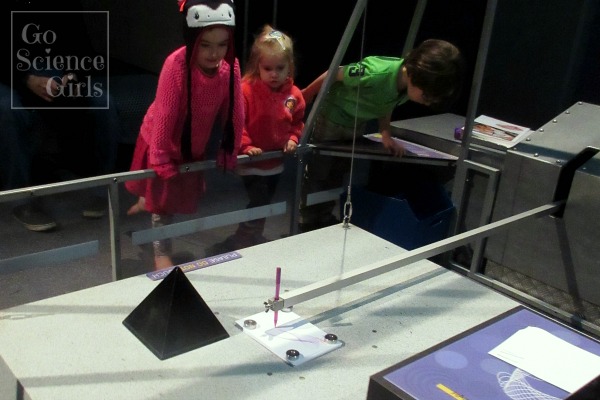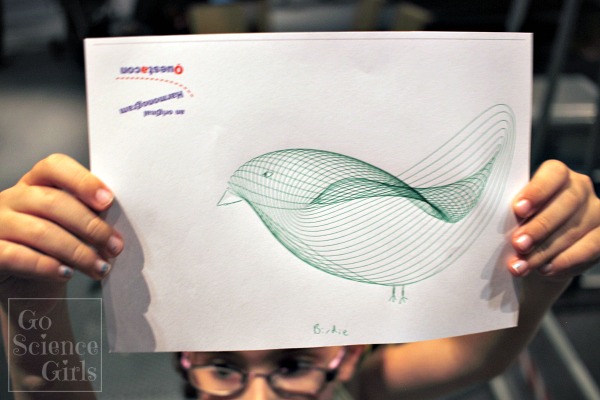 This gallery is chock-a-block full of earth science fun. There's an awesome caged lightening exhibit that strikes every 15 minutes. There's an earthquake room where kids can experience how different earthquakes feel, and have a go at building an earthquake proof structure, only to see it crash down (or not). There's a model Earth that you can orbit around a model sun, illustrating not only the passage of a day and a year, but also how the tilt of the Earth causes the seasons.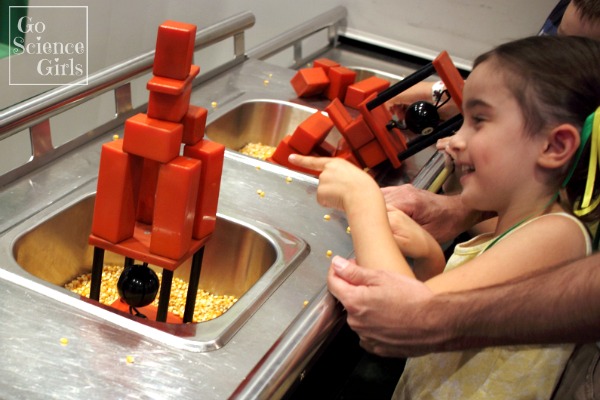 Back on the ground floor, this gallery focuses on water and how we can conserve it, which is so important in drought-prone Australia. Much of the science in this gallery is beyond my kids understanding, but it's fun to play around and creates the opportunities for some meaningful environmental discussions.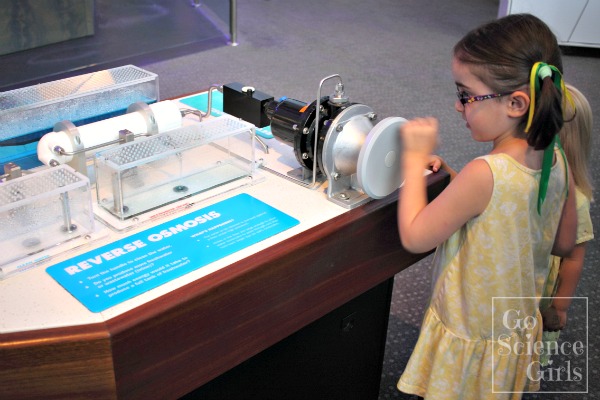 This gallery is more like an amusement park than a museum. Questacon claims that Excite@Q is "high energy, high impact, and highly addictive" and they're just about right. There's a free fall 6 metre slide (for kids 110cm or taller). You can play air hockey against a robot (although I doubt you'll win – that robot's really good!) You can test your reflexes in a game of Batak. And the whole back wall is covered with large wind tubes that send fluoro scarves flying through the air.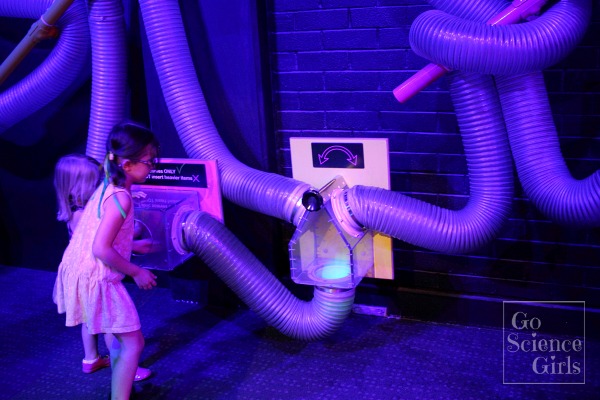 Mini Q is Questacon's custom-built area for babies, toddlers, preschoolers and kindergarteners (0-6 year olds) and their families. It's completely hands on, and is designed to encourage exploration, observation and testing. There's a lot of role play (construction, mechanics, vet, bakery), sensory play and water play. (Bring a change of clothes – if your kids are like mine, they'll get wet!)
If you're visiting in peak times (school holidays and long weekends) then you may need to pick up some (free) tickets, which hopefully will have been given out when you first arrived. (If not, you'll have to duck back to the ticketing counter and get some.) The tickets are allocated by timeslot, to ensure that there aren't too many kids in Mini Q at any one time. (Yes, it is that popular.) Whilst my kids would love to stay in there all day, I actually like that the time in Mini Q is restricted, as it encourages (forces) them to explore the rest of the centre too.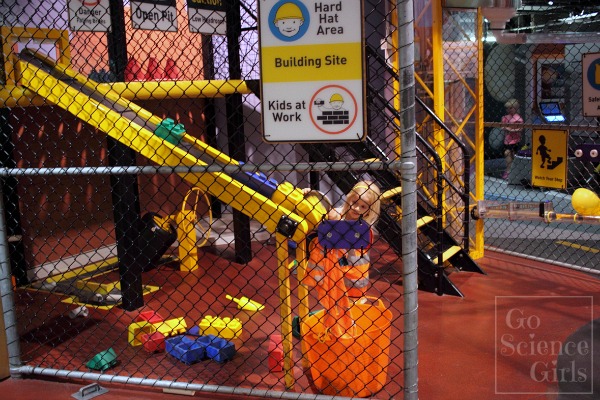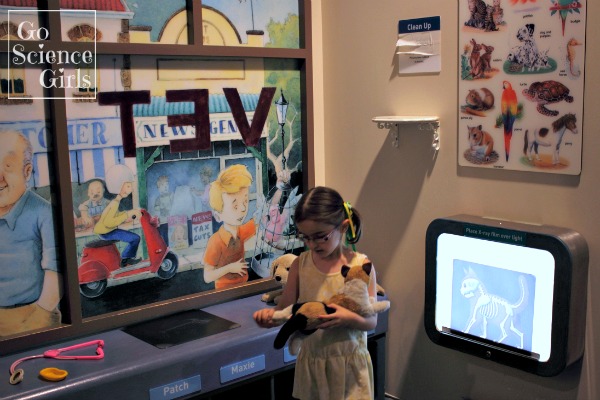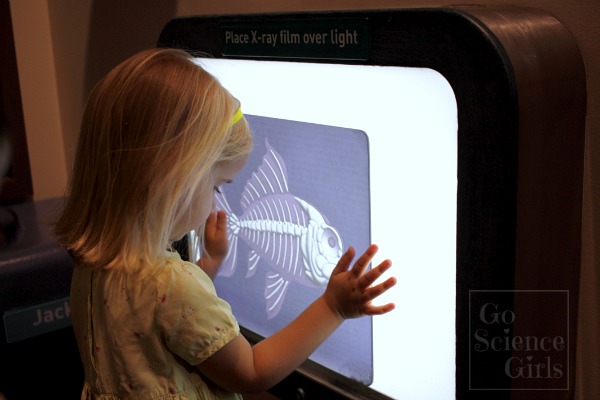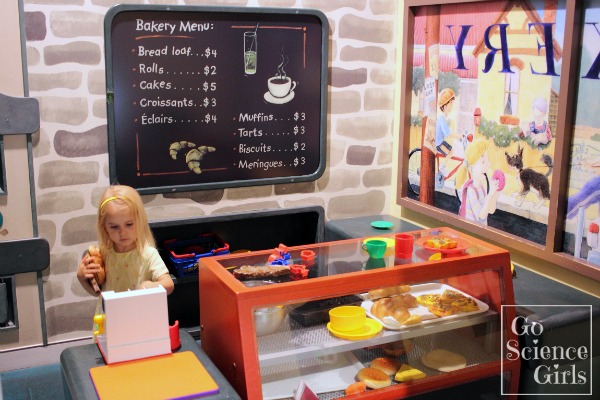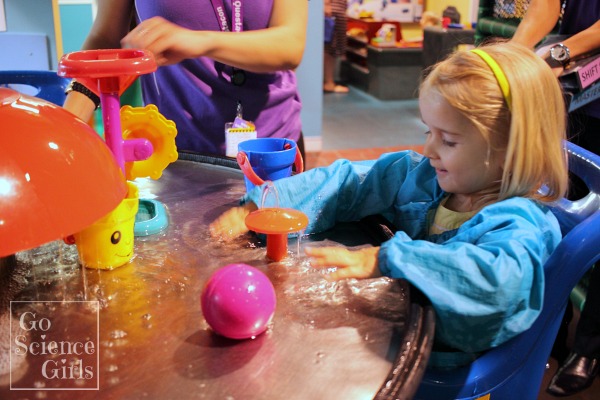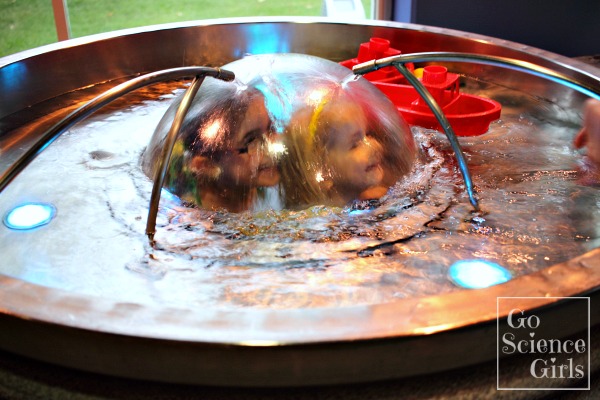 During peak periods, Questacon also put on 1/2 hour science shows and demonstrations. If these are running, you'll receive a list of the day's shows from the ticketing booth when you first arrive. Many of these shows cater to an older 8+ year old age group, but we found a couple that were OK for our little-uns. The first time we visited Questacon (about a year ago), we went to a dinosaurs and fossils show, presented by a young, female palaeontologist, who was so enthusiastic about her topic that it was infectious. (I'm always delighted when my girls can come across female scientist role models, especially young and enthusiastic ones!). We also saw a dinosaur puppet show (aimed at preschoolers and really funny), and a rocket show about making DIY projectiles (right up our alley!).
When we visited again just a few weeks ago, we went to a 'Tasty Science' show where a (young, female) scientist taught us all about our sense of taste. I got called up to try out a wacky fruit that alters your sour and bitter taste sensations (and then enjoyed the most delicious, sweetest slice of lemon afterwards) – a fun experiment we reenacted later at home. The kids also got to turn their tongues blue to find out if they are super tasters or not. Fun!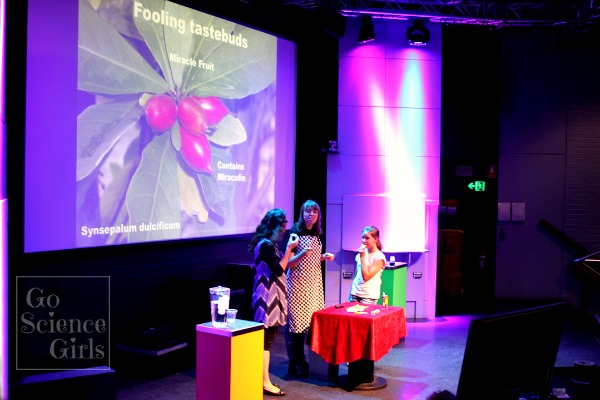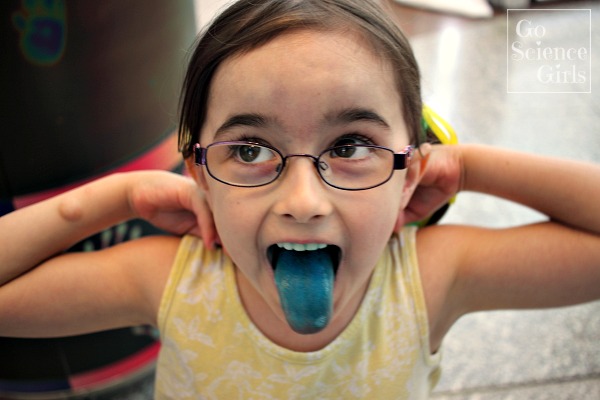 And last, but not least, make sure you leave some time to explore the science garden surrounding Questacon. It's dotted with fun outdoor exhibits inspired by the natural elements of sun, wind, water and rock. We especially loved the lithophone (which is a musical instrument similar to a xylophone, except made from stone).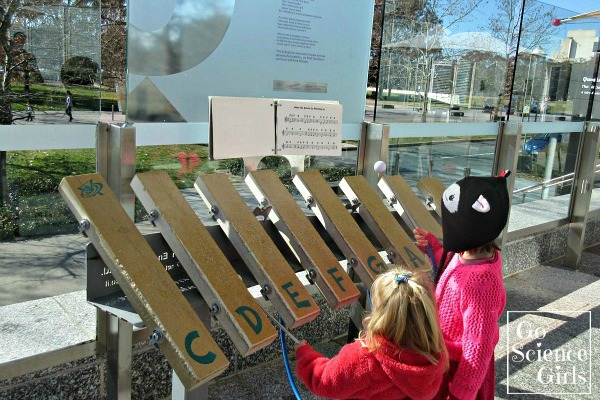 At the end of the day (or several days) visiting Questacon, I dare your kids to not be excited about science. This is the core benefit of visiting places like this. Kids won't actually leave knowing how to build a singing robot or a gravitram, but they will be keen as mustard to learn how. And that's a big plus in my book. The world needs more kids enthusiastic about science!
If you like this review, you may wish to subscribe to the Go Science Kids newsletter. You'll be the one of the first to hear about science reviews like this one, as well find out about some fun (and mostly free) science ideas you can try at home.
We're hoping to do more science museum reviews, and when we do, they'll be listed here. (As you can see, we've already reviewed the Australian Museum, and we're hoping to write up reviews of the Melbourne Museum and Scienceworks shortly.)
What's your favourite science museum? Where should we go next?
*Disclosing that Questacon kindly offered (at our request) complimentary tickets for our latest visit to Questacon, for review purposes. This post is not sponsored or endorsed by Questacon.