The Australian Museum is Australia's oldest museum, set in a grand old sandstone building, adjacent to Sydney's Hyde Park and St Mary's Cathedral. The museum boasts an amazing natural history and anthropology collection. We've visited on many occasions, and have loved every single time.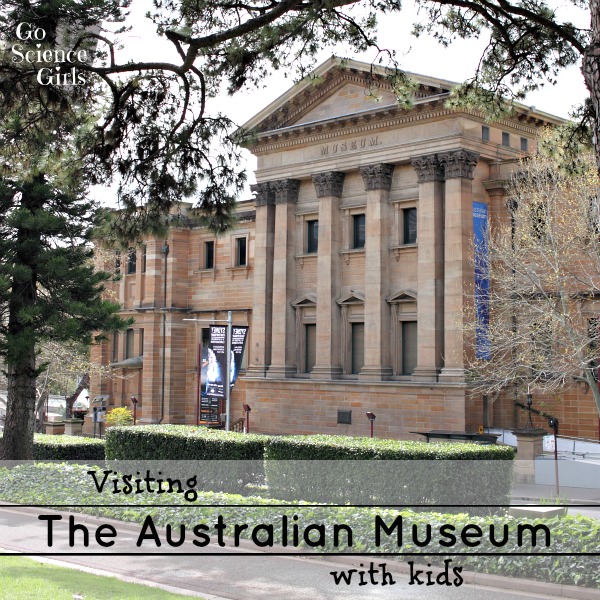 The Australian Museum
Open: Daily from 9.30am – 5.00pm, except Christmas Day.
Cost: Adults $15, Children FREE, Members FREE. Annual family membership from $88. Click here for more information.
Location: 1 William St, Sydney. Click here for map. Click here for transportation and parking information.
Suitable for: 2-100 year olds! Whilst the whole museum is interesting for all ages, toddlers will likely prefer the Kidspace area, and preschoolers will also enjoy the Search & Discover rooms (see below). There are baby change facilities in both the gents and ladies restrooms.
The best bits:The Search & Discover rooms are my favourite for hands-on exploration. The view from the Rooftop Cafe is pretty sweet too.
The worst bits:Some of the lower rooms are a bit boring for young kids. The minerals and gems displays are often too high for little kids to be able to see without being held.
Our Review
We first bought our annual Australian Museum membership when Jewel was 4 years and Bumble was 2 years old. (Note: I left my camera at home for our early visits, so they are about 3 and 5 years old in most of these photos).
Our membership has been fantastic. It means we can go as often and for as long as we like. We tend to drive if it's a Sunday afternoon, when parking is more readily available. Other times we catch the train, alighting at quaint Museum Station, and enjoy a stroll (play) in Hyde Park along the way. St James Station is another option: it's equidistant, and I hear is easier for pram access.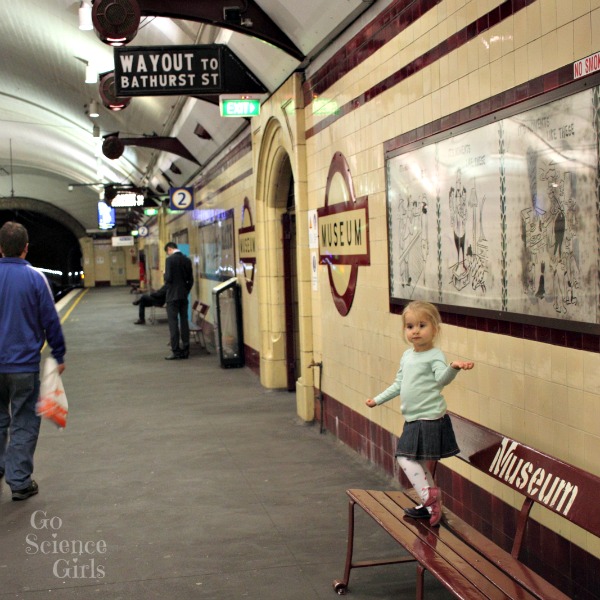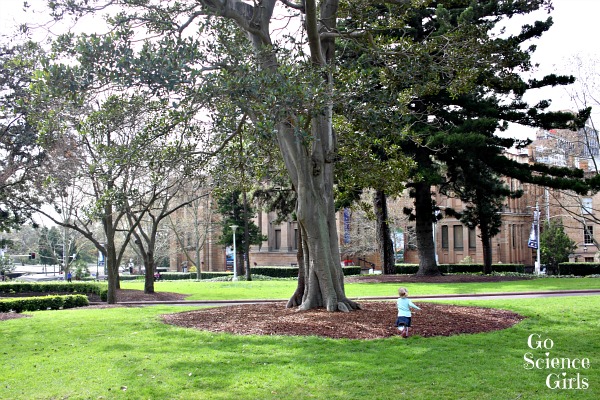 The Australian Museum itself is split up into distinct rooms, covering a range of natural history and anthropology areas.
On the ground floor, there's a First Australians gallery, which details Australia's aboriginal culture and history. I find this gallery fascinating, but my kids are more impressed with the new Wild Planet gallery, with it's skeletal and taxidermied displays of wild animals from all around the world. Have you ever seen a sloth close up? Well, now's your chance.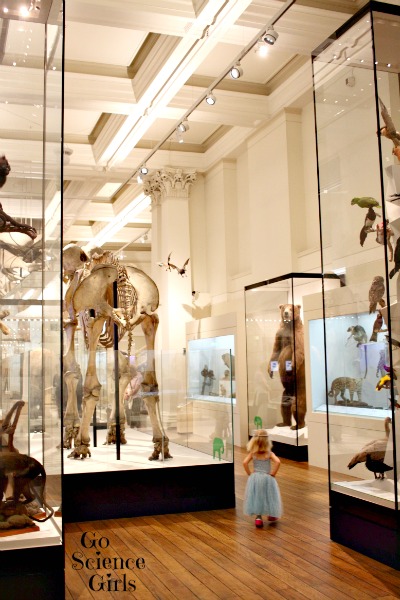 There's also the Long Gallery which, in contrast to the Wild Planet gallery, is very dark. It's mostly full of skeletons, dioramas, and weird displays pickled in glass jars. It's all very cool, albeit a touch spooky.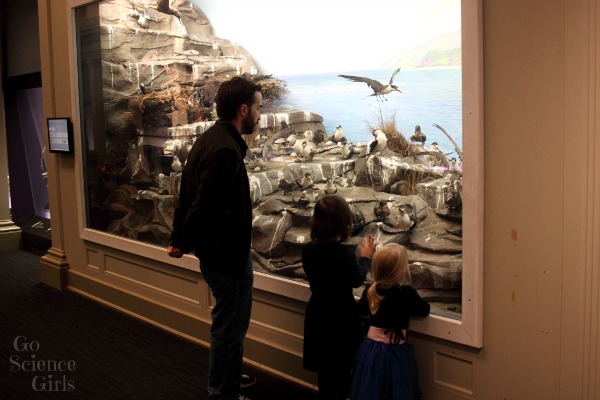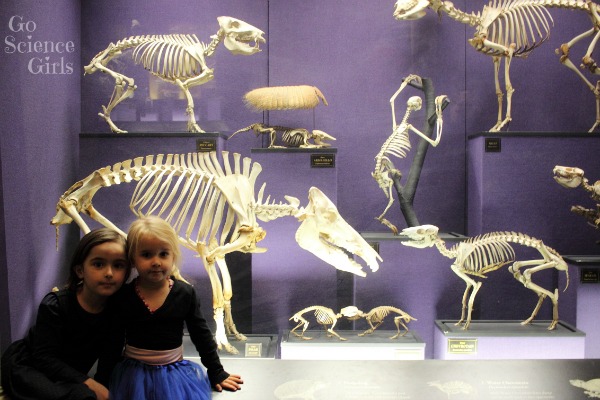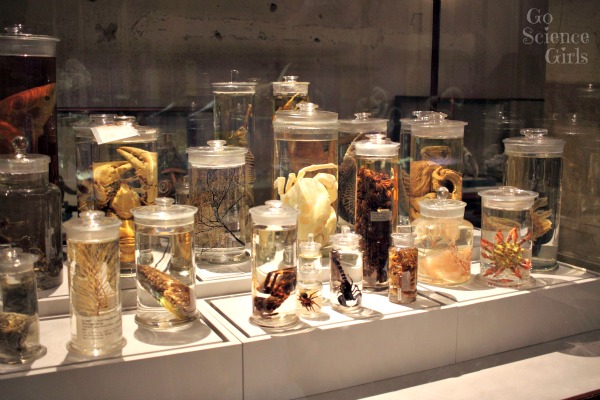 The first floor is mostly about rocks, with the Planet of Minerals, Chapman Mineral Collection and Meteorites and Gemstones rooms. Minerals, meteorites and gemstones, oh my! Whilst it's all very sparkly and pretty, the displays are a bit too high up and a bit too hands-off to keep my kids' attention for very long. Sometimes they set up more interactive displays (like this one below) in the school holidays, where kids can examine and experiment with different specimens, which is pretty cool. Did you know that many meteorites are highly magnetic?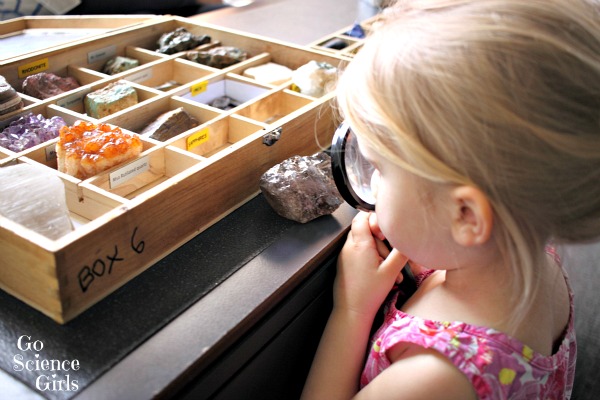 What does completely fascinate Bumble on this level is the mummy, lying in her sarcophagus. She's kind of in the foyer area, rather than an actual room. Bumble peppers me with questions about who she was, why she was wrapped up and how she died.
The next level up, on the second floor, is what we'd consider to be the heart of the museum. Sometimes we head straight to this level, bypassing the first two floors altogether. This level has a great balance between impressive glassed off displays and hands on interactive exhibits to keep the little people involved. Anything that can be touched, may be touched, so parents can relax a little and follow their kids' lead. Most people head straight to the Surviving Australia gallery, which leads straight on to the Dinosaurs gallery, and then loops around through the Birds & Insects.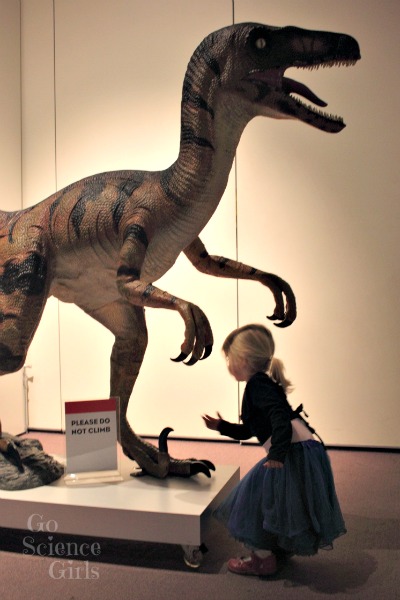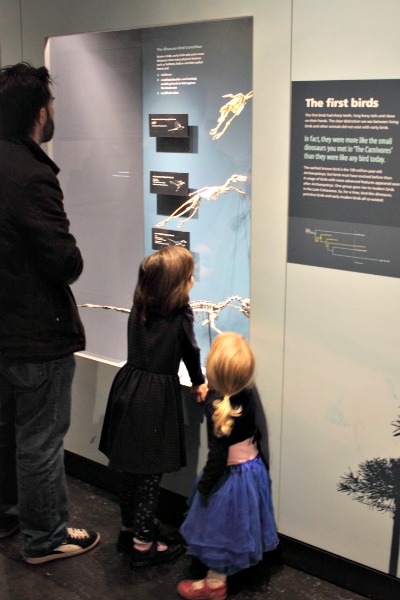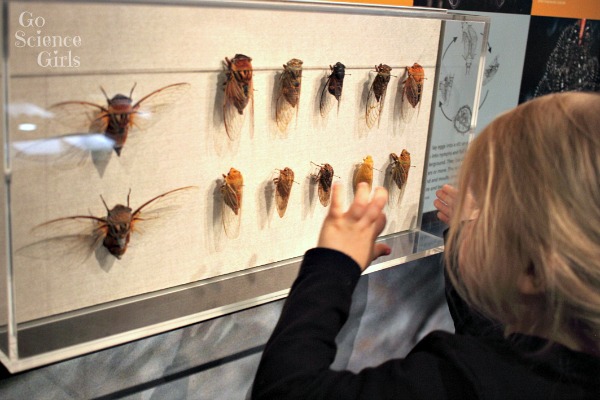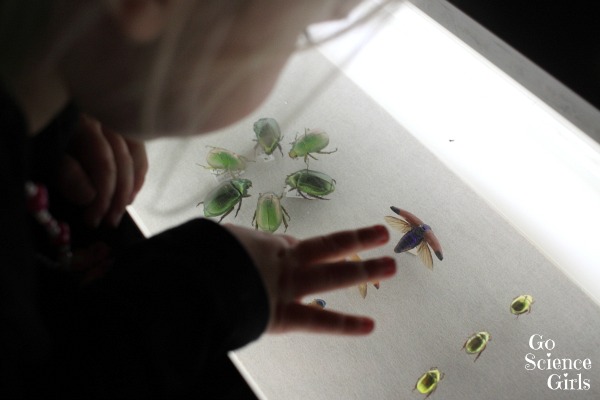 But there are two other areas on this level that are our favourite spaces in the whole museum altogether.
The first, is called Kidspace, and is a special space designed specifically for under 4 year olds. At first glance, it might just look like any other play area, lacking a little in natural light, and filled mainly with books and stuffed animals. (Not that there's anything wrong with that, but it's probably not what you've come to the museum for). If you look a little deeper however, there's some really really cool, yet age appropriate, hands-on, awesome stuff in there. Like these cool animal X-rays, fragments of butterfly wings and feathers that you can study on the light table. Or the range of taxidermied native Australian animals that the kids are encouraged to touch and pat. It's a constantly changing space – every time we go, there's always something new to explore.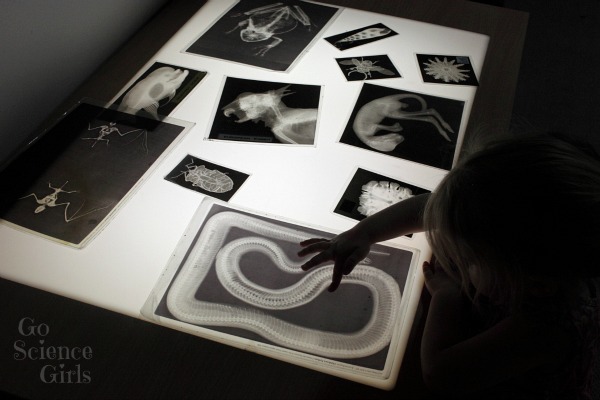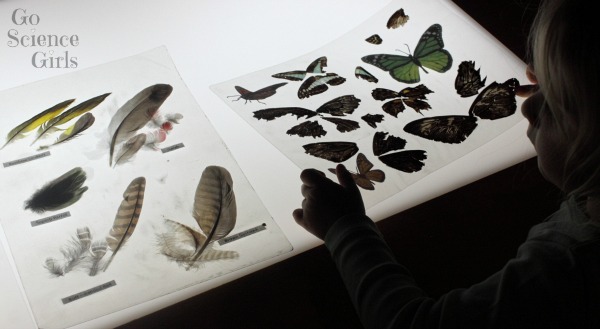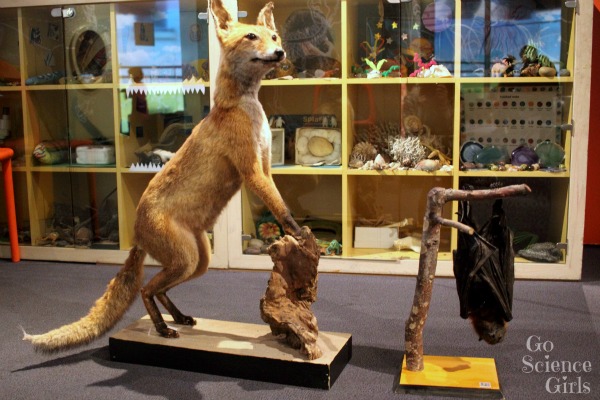 Our favourite space, however, is the often overlooked Search & Discover and adjacent Education Rooms, which are tucked away at the back of Level 2. We'd actually been to the museum several times before we discovered that these rooms even existed. These rooms are much more hands-on than the other display galleries, and are great for preschoolers and up, with close supervision and guidance. There's so much to see, touch, do and learn! There's a human skeleton and skulls (that you can touch!), lots of taxidermied animals, including koalas, kangaroos, fish, snakes, sea urchin and egg shell collections, strong microscopes with interesting coral and bone specimens to examine, live stick insects and phasmids, including phasmid eggs and poo that kids can use tongs to sort though, and lots, lots, lots more. There is always museum staff in this room too, who are happy answer questions from little enquiring minds.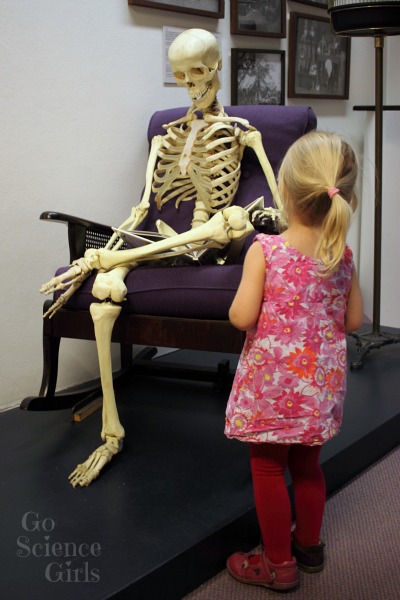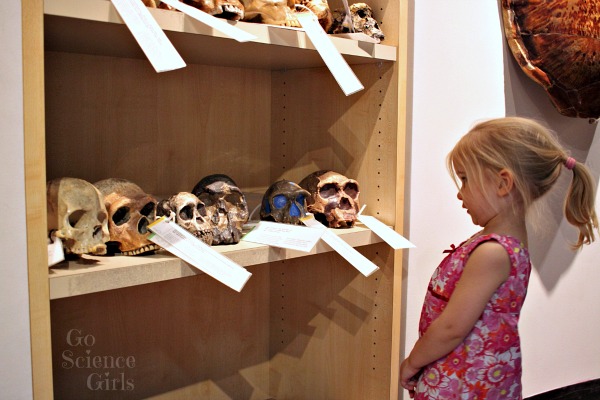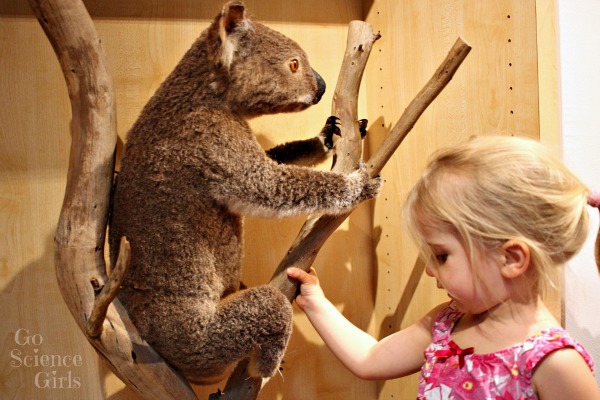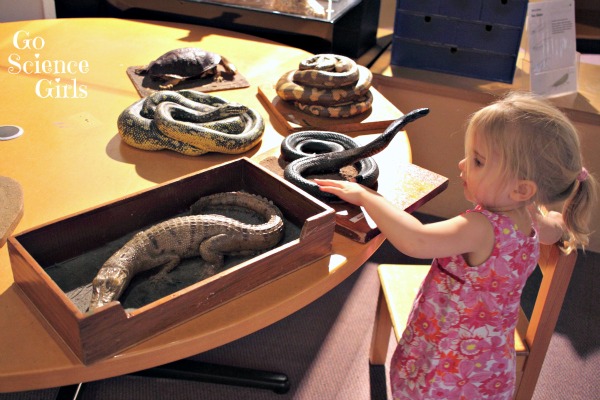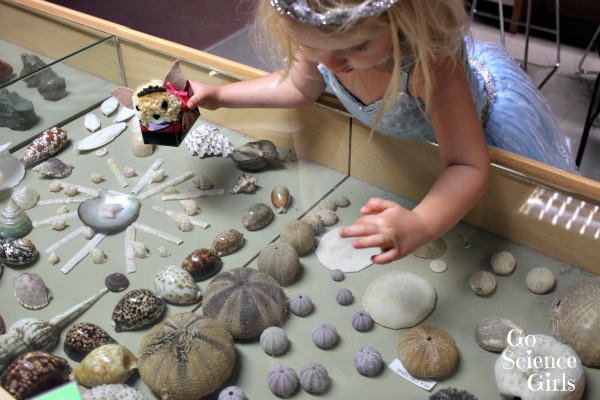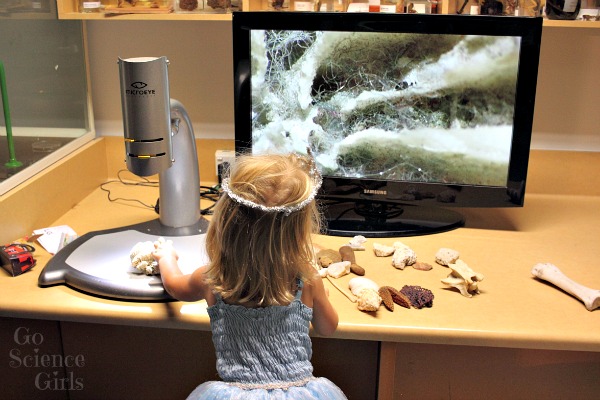 The third level is a bit of an enigma. I'm not exactly sure what goes on there, but I guess it's where the staff sort through and study some of 18 million items in their natural history and anthropology collections. What I would give to peek in there one day!
Up on the fourth floor, is the museum's Rooftop Café, with views over St Mary's Cathedral and the northern corner of Hyde Park. Tis a nice spot for a little break (and a cappuccino). 🙂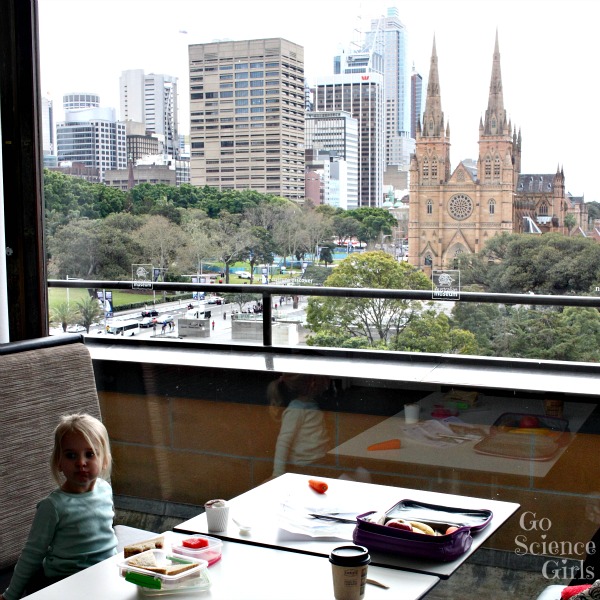 What is Natural History, and why is it a science?
Natural History is the research and study of natural objects and organisms (including animals, fungi and plants). Natural history museums around the world collect and maintain specimens to help scientists determine how many species there are, to describe them, and to study the relationship between them. The Australian Museum specialises in taxonomic and systematic research, which comprises the describing, naming and classifying of nature, and studying its origins and interrelationships. Whilst many observational studies of plants and animals can be (and are) done 'in the wild', there is a huge benefit to having a museum collection for when wilderness studies are not available or practical. Museum collections reduce the need for scientists to continually collect new specimens, especially important when research is needed on endangered or vulnerable species, or where natural environments are rapidly degrading. From museum specimens, scientists can study food habits, reproduction, community structure, the effects of climate change and pollution, and much more. You can find out more about the science at the Australian Museum here.
Our Australian Museum membership also gives us free or discounted access to several other natural history and science museums around Australia, and we've been making good use of our reciprocal membership at The Melbourne Museum and Scienceworks (reviews coming shortly). You might also like to check out our review of Questacon in Canberra. (Spoiler alert – we love it!)
What's your favourite science museum?
If you like this review, you may wish to subscribe to our newsletter. You'll be the one of the first to hear about science reviews like this one, as well as some fun (and mostly free) science ideas you can try at home.