Scienceworks is an awesome city-focused science museum in Melbourne, Australia, that packs in lots of interactive learning and play.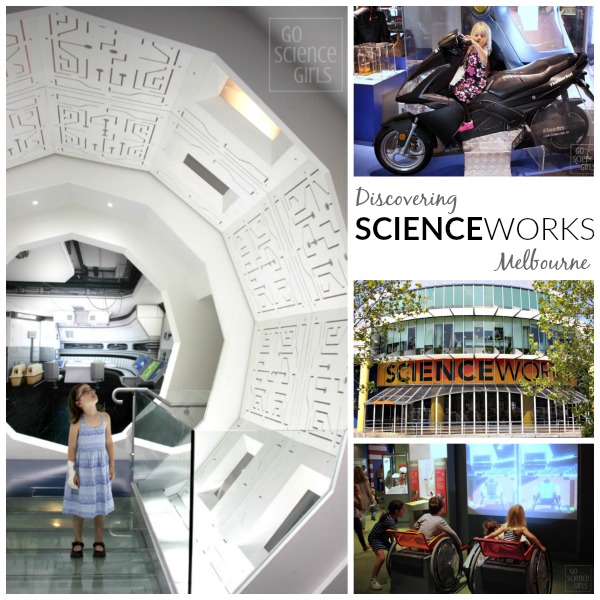 Scienceworks
Open: Daily from 10.00am – 4.30pm, except Christmas Day and Good Friday.
Cost: Adults $14 + booking fee, Children (0-16 years) FREE, Concession FREE. Additional charges apply for entry to Planetarium, Lightning Room, temporary exhibitions and special events. Click here for more information.
You can also become a member (Adults $50, Household $79) and receive unlimited free general entry to three Melbourne museums, reciprocal visiting rights to partner museums around Australia, and other discounts. Click here for more information.
Location: 2 Booker St, Spotswood. Ph: (03) 9392 4800. Click here for map. Car parking is available for $3 per day. There is also some (time restricted) free parking available on nearby streets.
Suitable for: 3+ year olds.
The best bits: Fun and interactive! Provides a science context to things that city kids would come across in their everyday lives, but perhaps hadn't thought about before.
The worst bits: It's also very dark inside some areas of the museum, which makes it hard to take good photos! The Scienceworks website is also confusing to navigate.
Our Review
We visited Scienceworks in January 2016 when Bumble Bee and Jewel were 3 years old and 5.5 years old respectively. We were down in Melbourne for a week's vacation, and we liked Scienceworks so much that we visited 3 times!
We receive reciprocal free entry as part of our Australian Museum membership. (One of the many perks of becoming a member of your local museum). We also found onstreet free parking, making it a very cost effective outing indeed.
On ground floor are the museum's main galleries and displays, including Think Ahead, Sportsworks, Melbourne Planetarium, Lighning Room and the special exhibition gallery.
Upstairs on the first floor are historical displays, and the Nitty Gritty Super City.
Nitty Gritty Super City
The first place we headed was upstairs to the Nitty Gritty Super City, which is a permanent exhibition specially designed for young children around 3-6 years old. It's a mini-metropolis, where kids can roleplay (and learn about) being builders, escavators, town planners, wharfies, waitresses, weather reporters and workers at a recycling factory.
There's PLENTY of buttons to push, levers to pull and objects to investigate.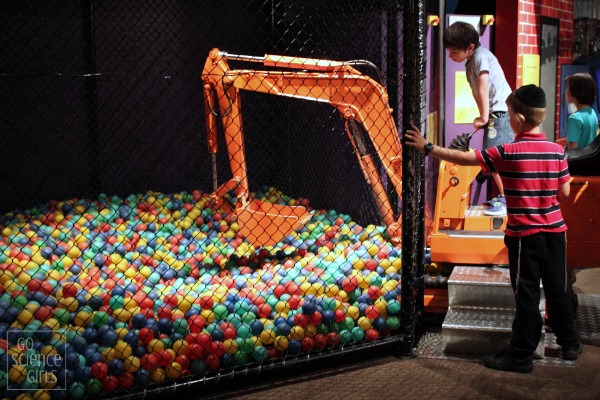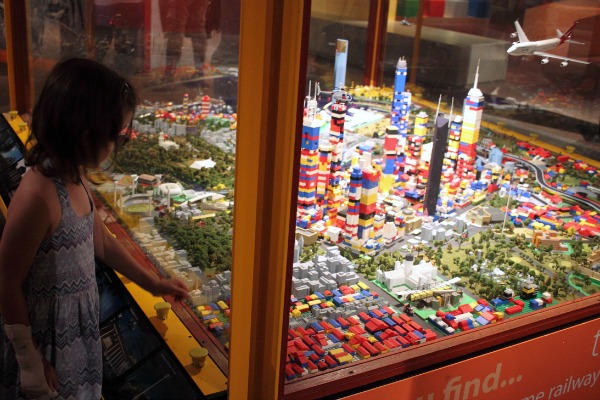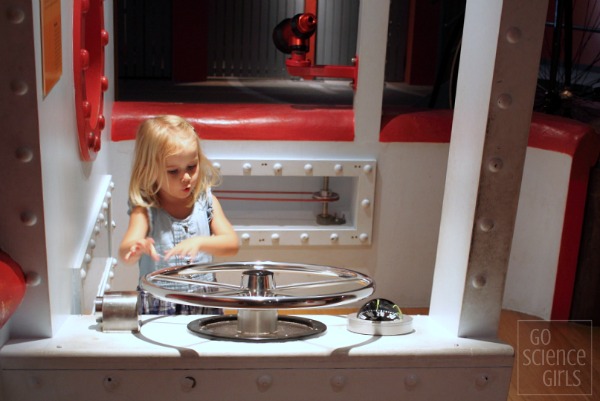 If your kids are social butterflies, then they'll likely team up with other kids to collaboratively load boxes onto a container ship using a pulley system, send bricks to the construction site along a conveyor belt or take orders for the pretend cafe.
Whilst you do need to supervise your own children, it is handy that there are childproof gates at both ends, especially if you have two kids who tend to run in opposite directions when they're excited, like I do!
Historical Displays
There's a few historical displays of old machines, just outside the Nitty Gritty Super City, which my kids (and I) found pretty cool too.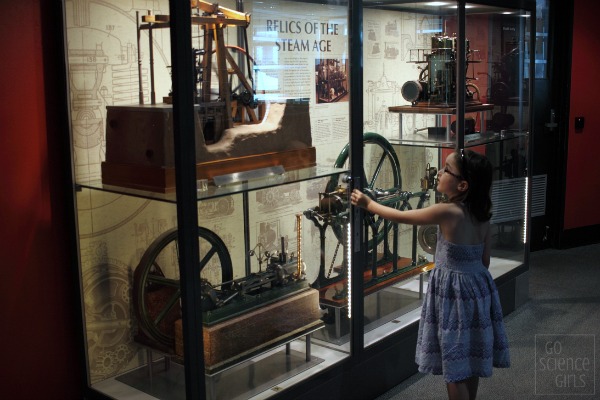 Think Ahead
Downstairs on the Ground Level is where the museums primary exhibits and displays are located. Think Ahead is one of the main galleries, and features a whole host of modernistic inventions imagining how advances in science might change how we live.
I was especially comforted to see all the environmentally-friendly ideas! And it made for some very deep and meaningful discussions about climate change, and how scientists are working towards solutions. Whilst the exhibit isn't tailored to young kids specifically, there still is a bunch of things they can touch and try. Here's Bumble Bee aboard a cool electric motorbike.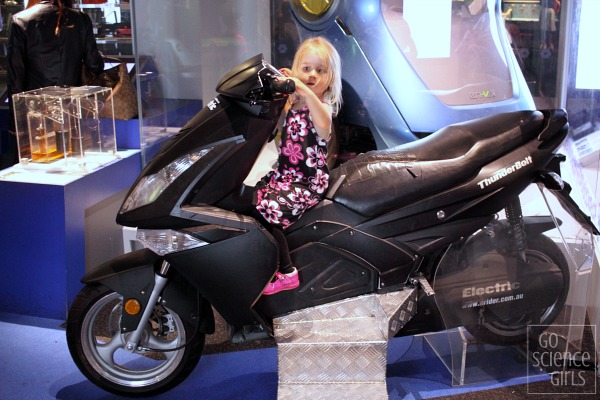 There's a very cool (and addictive) computer game where you can imagine upgrading your mind, organs, limbs and adding special features to your body and then jump around like a lunatic showing off your 'improvements'. It's so awesome – the kids (and I) must have played this at least a dozen times!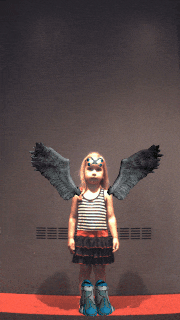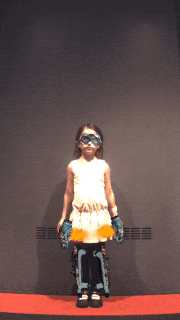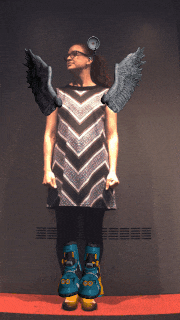 There's also a bunch of pretty cool space station displays. My kids have decided they want to hold their 18th birthday parties in space, so space-tourism better hurry up!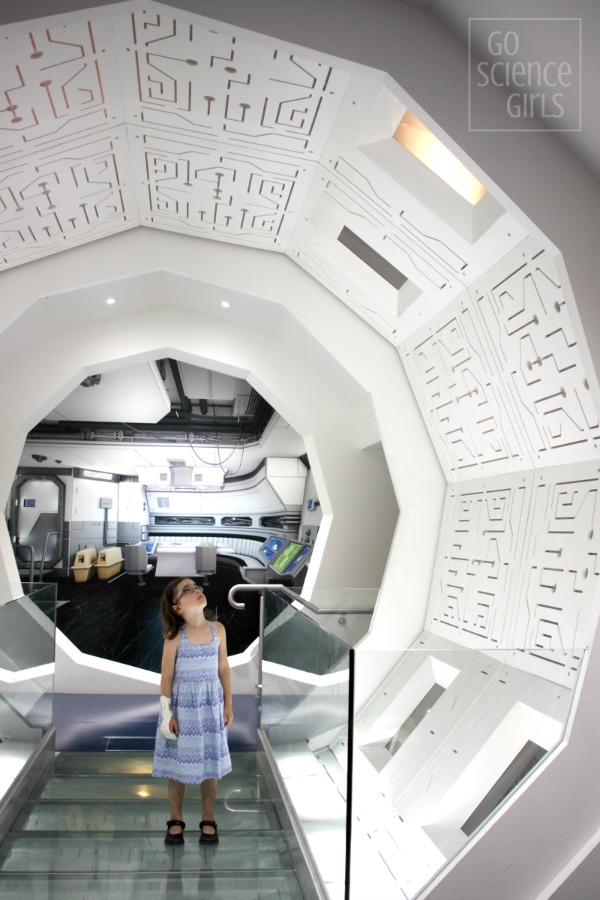 As this gallery is tailored more towards older kids and adults, many of the displays went over my kids' heads. But there was still enough to engross them for now (and we'll enjoy coming back when they are older).
Sportsworks
Sportsworks is another permanent exhibition, that looks at the ways science can analyse how human bodies move, and work towards improve sporting outcomes. You can test your throwing, jumping, rowing, running or wheelchair racing skills and see how you compare to some of Australia's champions. It's all the sort of stuff that you might imagine goes on at the AIS (Australian Institute of Sport) and more.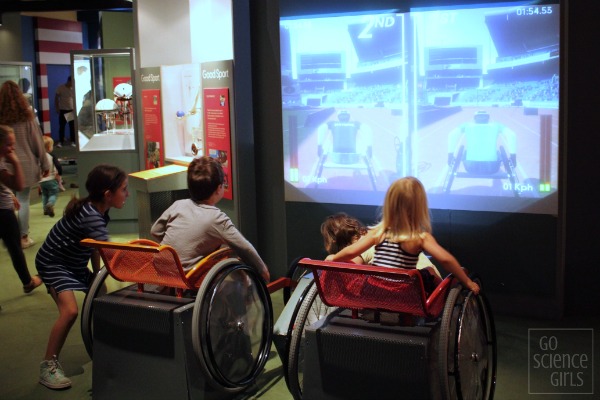 Just to let you know that some of the 'tests' were a little tricky for my young kids to manage, as they are designed for larger sized bodies. For instance, the kids needed help with the wheelchair race above, as they didn't have the physical strength to make it around the course on their own.
Special Exhibition Gallery
When we visited, Scienceworks had a super cute Alice in Wonderland special exhibit, that looked at some awesome special effects to recreate a Wonderland like experience. These special exhibits change all the time, so ask what's on when you're planning to visit.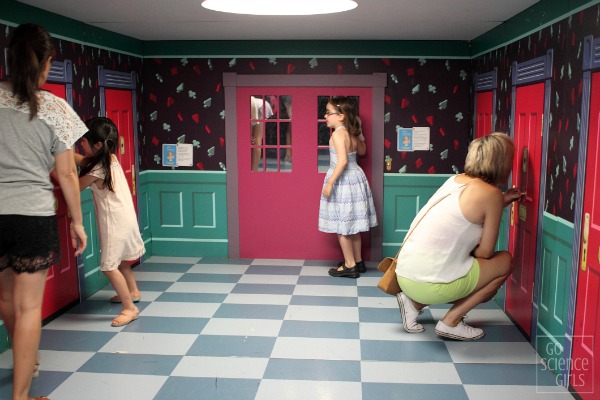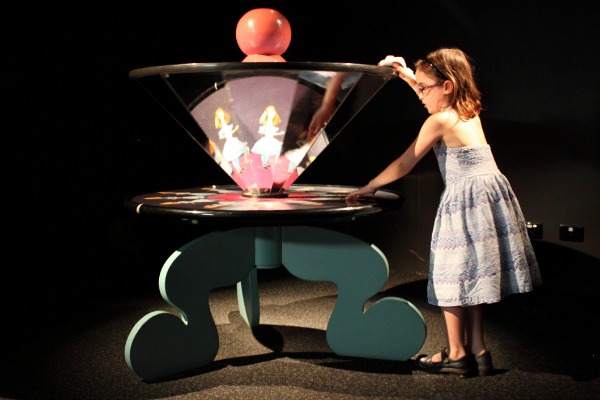 There are many more areas of Scienceworks that we didn't even get a chance to see, like the Pumping Station, Planetarium, and Lightning Room. We'll definitely be returning to check them out next time we're in Melbourne. We're hooked!
The Science of Scienceworks
Scienceworks is all about asking questions. How does that work? Why does it do that? And applying those questions to the things that we use in our everyday (or future) lives.
There is soooo much to learn in museums like this. I could discuss the merits of individual displays for a few hundred pages and still have only scratched the surface.
But, above all else, it's about having fun. It's not necessarily the individual things that you learn at places like this (although they are cool too), but it's more the sense of enthusiasm for science that it encourages. Seeing that science is fun, and cool, and everywhere around us. And that's gold.