Corroboree frog nature craft idea, to help kids learn about biology, conservation and environmental science.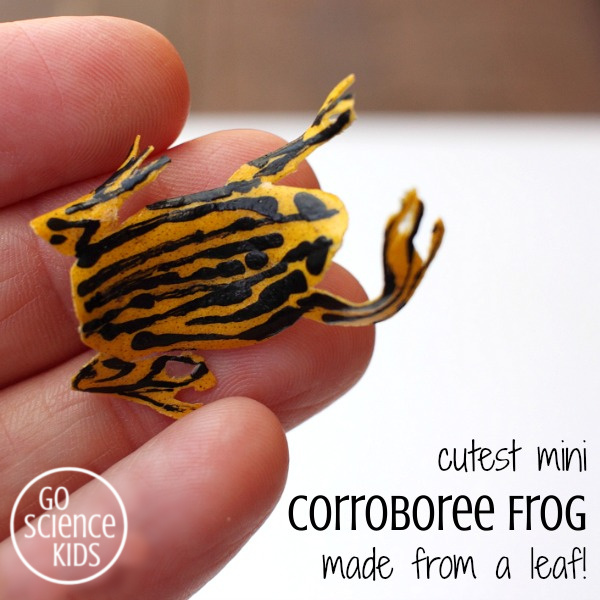 Have you heard about the corroboree frogs? The northern corroboree frog and the southern corroboree frog are two tiny Australian amphibians with striking yellow and black markings.
We've been learning about these fascinating animals recently, partly because they are so awesome, partly because of the conservation efforts to save them (see below), and partly because of another project.
When I spied some bright yellow leaves in our backyard, I came up with a cool corroboree frog nature craft idea.
But first, let me tell you about these amazing animals.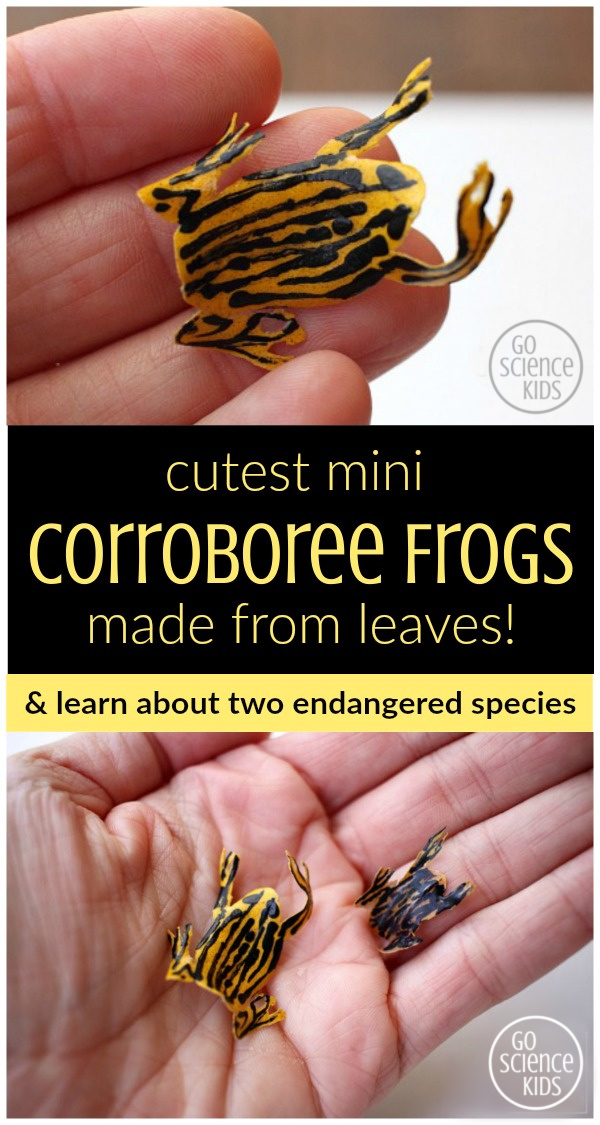 About Corroboree Frogs
There are two species of corroboree frog – the Southern Corroboree Frog and the Northern Corroboree Frog.
Both frogs are tiny (2.5-3cm long), with bright yellow and black markings. Of the two, the southern corroboree frog is slightly larger, with brighter markings.
Their skin is poisonous! They are the only frogs to produce their own poison, rather than obtaining it through their diet. This poison is secreted from the skin as a defence. The bright colours warn potential predators.
They live in, and around, seasonal wetlands in the Australian alps. They are only active in the warmer months.
They walk, rather than jump. And they make a squelch noise, rather than a croak. You can hear a recording of their call here.
They eat ants and other small insects.
The northern corroboree frog and southern corroboree frog are listed as endangered and critically endangered. Recently there were fewer than 200 southern corroboree frogs left in the wild.
Their rapid decline is due to a disease caused by the amphibian chytrid fungus, hindering the ability of the frogs to breathe through their skins. Without intervention, there is a real risk these frogs would become extinct.
Captive breeding colonies of corroboree frogs are being successfully maintained at the Amphibian Research Centre, Taronga Zoo, Melbourne Zoo, Healesville Sanctuary and Tidbinbilla Nature Reserve.
Over 2,000 southern corroboree frog eggs have been released to Kosciusko National Park, and over 2000 northern corroboree frog eggs have been released to the Brindabella Ranges bordering the ACT and NSW. This program aims to maintain frog populations long enough for scientists to develop a cure and/or allow enough time for potential evolution of resilience to this disease.
It's not just corroboree frogs that are affected by this fungus – it's associated with widespread amphibian decline around the world. The Corroboree Frog Recovery Program contributes valuable knowledge to similar programs around the world, with the hope of finding a global solution.
You can find out more about Corroboree Frogs and conservation efforts here.
How to make a Corroboree Frog leaf craft
(Note: affiliate links included below)
We used:
What to do
Find bright yellow and greenish-yellow leaves in your garden.
Cut out a tiny frog shape. Make the bright yellow leaf frog about 3cm (for the southern corroboree frog), and the greenish-yellow leaf frog about 2.5cm (for the northern corroboree frog).
Paint on black eyes (or draw on with the fine-tipped marker)
Paint black lines from head to the tail. (Leave more yellow space between the lines on the southern corroboree frog). Let dry.
Coat with sealer (optional).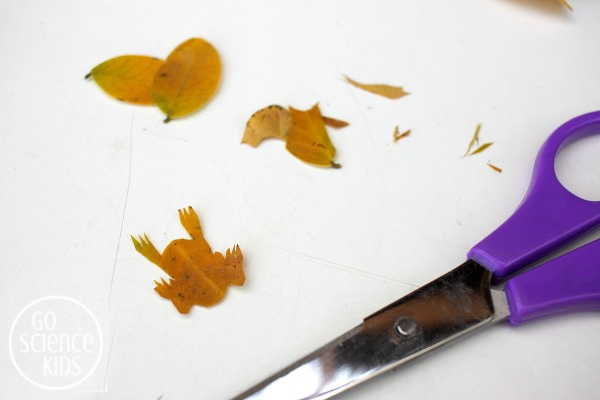 I made the northern corroboree frog first, cutting it out from a small yellowish leaf. Cutting something this small is tricky!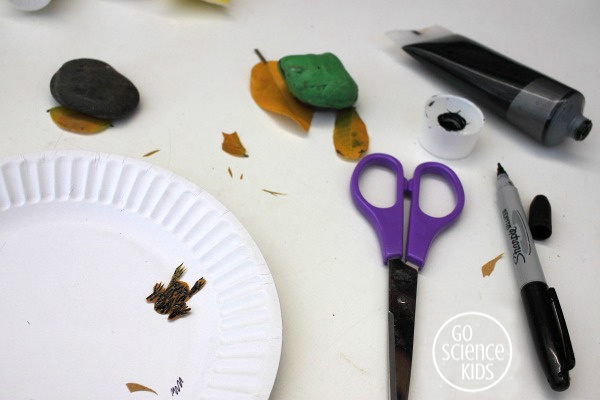 Initially I tried drawing on the black stripes, until I realised that my fine tipped permanent marker was out of ink! Doh! So instead, I dipped the tip into black acrylic paint and carefully painted on the stripes. (You could use anything with a fine tip, like a toothpick, as your painting tool.)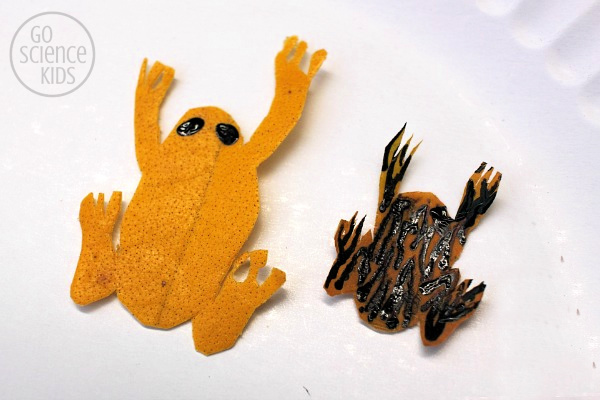 Next I cut out the southern corroboree frog from a larger, brighter yellow leaf. I painted on the eyes, and then some stripes.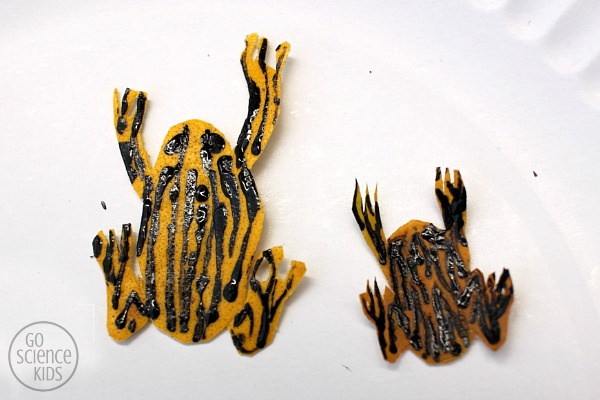 Once they were dry, I added a coat of mod podge sealer, just to protect it a little from small hands, as I knew the kids would want to play with them when they got home from school. As they dried, they curled a little bit, as leaves tend to do.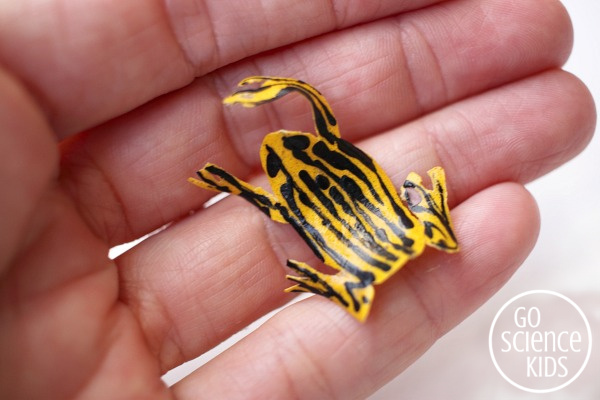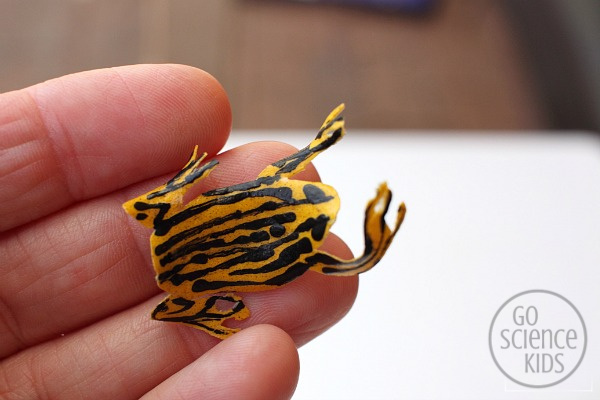 I think they look quite realistic! It's not til you turn it over and see the underside that it's obvious they are made from a leaf.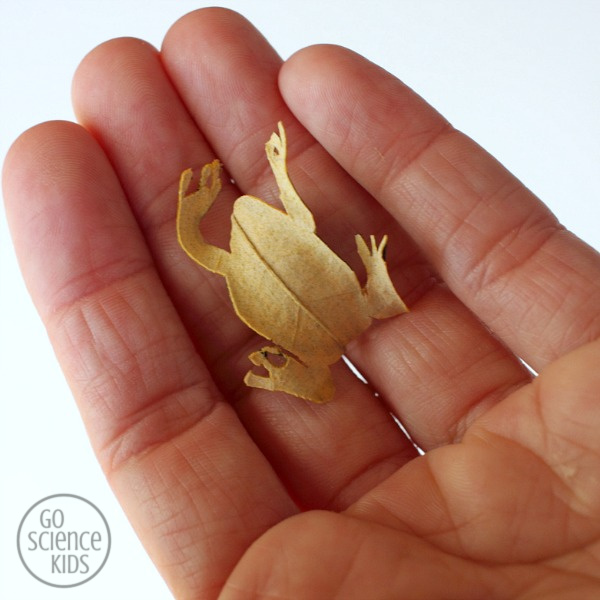 Suitable for
This craft requires advanced fine motor skills. Older kids (7+ year olds) may be able to do it for themselves. Younger kids will likely need an adult to help, especially with cutting the leaves.
For more biology activities, you might also like:
Or subscribe to receive fun activities like this, straight in your Inbox!
* This post contains affiliate link(s). An affiliate link means I may earn a referral fee or commission if you make a purchase through my link, without any extra cost to you. It helps to keep this little project afloat. Thank you so much for your support.