What happens when you add pineapple to jelly / Jello? Fun edible science experiment for kids!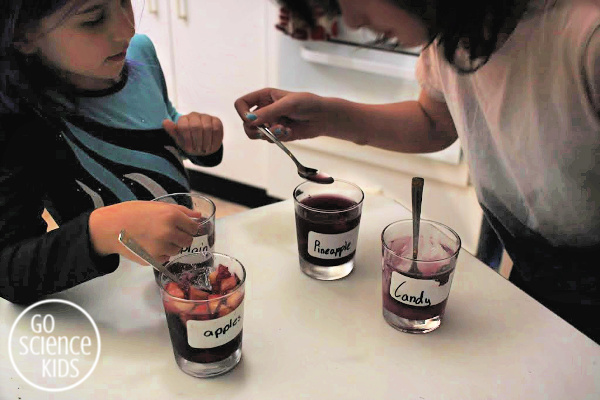 Have you noticed on your packet of jelly (or Jell-O as my North American friends call it), that there's usually a small note that says "Do not add fresh pineapple, kiwi fruit or paw paw as jelly will not set." Well, we noticed, and of course, we became intrigued!
But turning our curiosity into a pineapple & jelly science experiment was actually my 10 year old daughter Jewel's idea. I suspect she:
a) wanted to make jelly
b) was intrigued by the warning label on the box, and
c) thought that suggesting a science experiment would be a good persuasive argument for why she should be allowed to make (and eat) a sweet treat! (She's been learning about persuasive arguments at school…)
Well, she does know how best to convince me. 🙂
Suitable for
Playing with food is fun for all ages, especially if it ends in deliciousness! With slight modifications, this activity could work for anything from preschoolers or tweens!
These instructions below are for older kids, but if you did want to try this with little ones, you could modify by using 'hot to touch' (rather than boiling) water and cutting fruit and candy for them.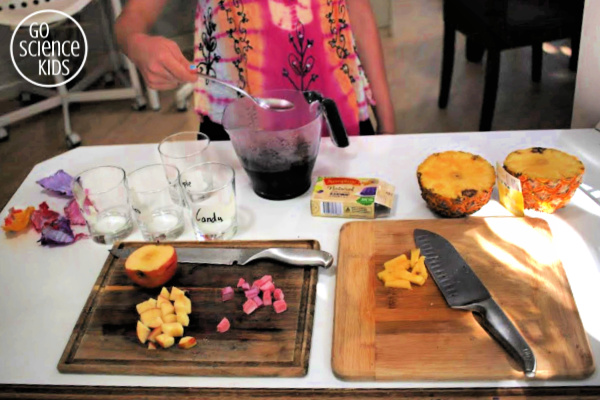 But first, let me clarify something that can be a little confusing. What we call jelly in Australia, is the same thing that North Americans call jello (or Jell-O). So, when I say jelly, I'm referring to jelly as a jiggly dessert, and not jelly as a spreadable fruit preserve (which. incidentally, Australians call jam). OK? Sorry about that, it's an Australian / American / British English language thing…
Anyhoo, onto the experiment!